Winfrey stands behind 'Pieces' author
Writer has been accused of exaggerating memoir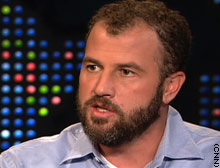 "I don't think it's necessarily appropriate to say I've conned anyone," Frey told CNN's Larry King.
LOS ANGELES, California (CNN) -- The author of a best-selling memoir enthusiastically endorsed by talk show host Oprah Winfrey answered accusations Wednesday night from critics who say parts of the book are fabricated or exaggerated.
James Frey's "A Million Little Pieces" describes his life as an alcoholic, drug addict and criminal -- in graphic, bloody language.
Winfrey, in a phone call to CNN's "Larry King Live" show Wednesday night, said she still supports Frey and the book. Frey was King's guest on the show. (Watch what Oprah said about publishers and the facts in question -- 4:56)
"I am disappointed by this controversy surrounding 'A Million Little Pieces,' because I rely on the publishers to define the category that a book falls within, and also the authenticity of the work," Winfrey said.
"But the underlying message of redemption in James Frey's memoir still resonates with me, and I know it resonates with millions of other people who have read this book."
"What is relevant is that he was a drug addict who spent years in turmoil from the time he was 10 years old drinking and tormenting himself and his parents, and stepped out of that history to be the man that he is today and to take that message to save other people and allow them to save themselves."
"To me, it seems to be much ado about nothing," she added.
Winfrey made the paperback version of the book a best-seller after picking it for her coveted book club last September. Frey was a guest on her October 26 show, titled "The Man Who Kept Oprah Awake At Night."
However, according to "The Smoking Gun" investigative Web site, a six-week investigation shows Frey's life was far less exciting than he makes it out to be in the memoir, which has sold more than 3.5 million copies and topped "The New York Times" nonfiction paperback best-seller list for the past 15 weeks.
"Smoking Gun" Editor William Bastone told CNN's "American Morning" Wednesday that the probe was prompted after the Oprah show aired.
"We initially set off to just find a mug shot of him," Bastone said. "We have a large section on this site that's devoted to booking photos of well-known people."
The staff went looking for the images in three states where Frey said he ran into trouble.
"It basically set off a chain of events that started with us having a difficult time finding a booking photo of this guy," Bastone said. That led to a more prolonged review of various parts of Frey's book, he added.
The Web site is owned by Court TV, which is half owned by Time-Warner, CNN's parent company. The movie rights have been purchased by Warner Brothers, also part of Time Warner.
According to the Smoking Gun Web site account, "When we asked Frey if his reporting of the laundry list of juvenile crimes and arrests was accurate, he answered, 'Yeah, some of 'em are, some of 'em aren't. I mean I just sorta tried to play off memory for that stuff,'" Bastone said on the Web site.
"To me, it's misstatements and it's fabrications and it's embellishments that he never previously acknowledged," Bastone said.
In one instance in the book, Frey says he spent three months in an Ohio jail after hitting a police officer with his car, and started a melee with police during a night of boozing and crack smoking.
Bastone and police said the description of that night was inaccurate.
Granville, Ohio, Police Sgt. David Dudgeon says the front right tire of Frey's tire went over the curb, he was arrested for driving under the influence and released on $733 bond.
"He was polite and cooperative. There's nothing in the report that indicates he was combative, argumentative or anything like that," Dudgeon said.
Author says he relied on his memory
Frey told King that he was surprised by the controversy. (Read the transcript of Frey's "Larry King Live" appearance.)
"I never expected the book to come under the type of scrutiny that it has," Frey told King. "Memoir -- the word literally means 'my story.' A memoir is a subjective retelling of events.
"A memoir is within the genre of nonfiction. I don't think it's necessarily appropriate to say I've conned anyone. You know, the book is 432 pages long. The total page count of disputed events is 18, which is less than 5 percent of the total book."
"That falls comfortably within the realm of what's appropriate for a memoir," according to Frey. He has threatened to sue "The Smoking Gun."
"I've acknowledged that there were embellishments in the book, that I've changed things. In certain cases, things were toned up; in certain cases, things were toned down; that names were changed; that identifying characteristics were changed."
Frey said no one has raised questions about 200 pages of re-created conversations in the book, because it's understood that those are subjective memories.
"In every case, I did the best I could to recreate my life according to my memory of it."
The book's publisher -- Doubleday and Anchor Books, a division of Random House -- told CNN it stands behind Frey. A spokeswoman said the publisher sees no reason to investigate. The book was first published in 2003.

Home Page

CNN.com gives you the latest stories and video from the around the world, with in-depth coverage of U.S. news, politics, entertainment, health, crime, tech and more.

Home Page

CNN.com gives you the latest stories and video from the around the world, with in-depth coverage of U.S. news, politics, entertainment, health, crime, tech and more.