Bush: 'Hezbollah suffered a defeat'
President calls Lebanon a front in 'global war on terrorism'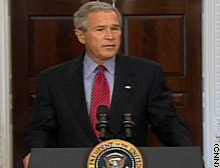 President Bush blamed the monthlong conflict on Hezbollah, Iran and Syria.
WASHINGTON (CNN) -- President Bush declared Lebanon a front in the "global war on terrorism" Monday, equating the Israeli battle against Lebanon's Hezbollah guerrillas to the U.S.-led wars in Afghanistan and Iraq.
Bush said Hezbollah and its supporters in Iran and Syria were responsible for the 34-day war, and called that conflict "part of a broader struggle between freedom and terror." (Watch Bush blame Hezbollah, Iran and Syria for the crisis -- 2:06)
Bush said the U.N. resolution that took effect early Monday was an "important step that will help bring an end to the violence."
He said the conflict was a win for his administration's policy of encouraging democracy in the Middle East and a defeat for Hezbollah, discounting a claim of victory issued by the Shiite Muslim militia's leader earlier Monday. (Watch the president declare Hezbollah the loser -- :40)
"Hezbollah suffered a defeat in this crisis," Bush said during a news conference at the State Department.
"There's going to be a new power in the south of Lebanon," he said, referring to the U.N. force that will assist the Lebanese army in taking control of the area.
"How can you claim victory when you were a state within a state in southern Lebanon, and now you're going to be replaced by an international force?" he said.
Speaking after a day of meetings with Pentagon and State Department officials, Bush said the leaders of armed groups must choose between armed conflict and democracy.
He warned Iran against meddling in both Lebanon and Iraq, where U.S. troops are battling a persistent insurgency and trying to stave off a Sunni-Shiite civil war more than three years after the 2003 invasion.
"In both these countries, Iran is backing armed groups in the hope of stopping democracy from taking hold," he said.
"The message of this administration is clear: America will stay on the offense against al Qaeda. Iran must stop its support for terror," he said. "The leaders of these armed groups must make a choice: If they want to participate in the political life of their countries, they must disarm."
The president defended the U.S. role in settling the Israel-Lebanon conflict, saying Secretary of State Condoleezza Rice deserved "great credit" for the cease-fire agreement.
The administration resisted international calls for an immediate cease-fire, which it said would not have addressed the underlying causes of the conflict.
"We want peace," he said. "We're not interested in process. We want results."
Bush laid the blame for the conflict -- in which more than 1,000 people died -- on Hezbollah, Iran and Syria.
"America recognizes that civilians in Lebanon and Israel have suffered from the current violence, and we recognize that responsibility for this suffering lies with Hezbollah," Bush said.
"Responsibility for the suffering of the Lebanese people also lies with Hezbollah's state sponsors, Iran and Syria."
Bush said Iran "provides Hezbollah with financial support, weapons and training."
"Iran has made clear that it seeks the destruction of Israel," he said. "We can only imagine how much more dangerous this conflict would be if Iran had the nuclear weapon it seeks."
The United States maintains that Iran is pursuing nuclear weapons. The Iranian government says its nuclear program is intended solely for peaceful purposes.

Home Page

CNN.com gives you the latest stories and video from the around the world, with in-depth coverage of U.S. news, politics, entertainment, health, crime, tech and more.

Home Page

CNN.com gives you the latest stories and video from the around the world, with in-depth coverage of U.S. news, politics, entertainment, health, crime, tech and more.