GOP renews fight against gay marriage
Bush calls for amendment, but critics see election-year diversion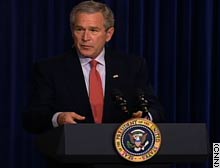 President Bush expresses his support for an amendment prohibiting same-sex marriage.
"Marriage in the United States shall consist only of the union of a man and a woman. Neither this Constitution, nor the constitution of any State, shall be construed to require that marriage or the legal incidents thereof be conferred upon any union other than the union of a man and a woman."
WASHINGTON (CNN) -- President Bush offered a new pledge of support Monday for a constitutional amendment that would ban same-sex marriage, a measure expected to fail in the Senate and one critics blasted as an election-year diversion.
"This national question requires a national solution," Bush said in an event attended by supporters of the amendment. "And on an issue of such profound importance, that solution should come not from the courts but from the people of the United States."
The Senate began debate on the Marriage Protection Amendment Monday afternoon. A vote on the amendment is expected Wednesday.
Bush first endorsed a constitutional amendment to ban same-sex marriages in 2004, when he was a candidate for re-election.
The proposed amendment failed in the Senate that year -- but similar amendments to state constitutions passed in 11 states, and observers credited those measures with bringing enough religious conservatives to the polls in key states like Ohio for Bush to win the election. (Poll: Americans split over gay marriage ban)
After winning a second term, Bush told The Washington Post that he did not plan on pushing for a constitutional ban, saying the Senate was unlikely to pass one as long as the 1996 Defense of Marriage Act remained in place.
But Monday, Bush said the amendment is necessary because "activist judges" have struck down state bans on same-sex marriage that have passed by overwhelming margins.
"These amendments and laws express a broad consensus in our country for protecting the institution of marriage," he said. "The people have spoken."
But opponents of the measure accused the president and his Republican allies in Congress of trying to divert public attention from concerns about issues like fuel prices and the war in Iraq. (Watch the politics behind the proposed ban -- 4:32)
Senate Minority Leader Harry Reid, a Nevada Democrat, said the debate was intended "to divide our society, to pit one against another."
"This is another one of the president's efforts to frighten, to distort, to distract and confuse America," Reid said. "It is this administration's way of avoiding the tough, real problems that American citizens are confronted with each and every day."
But religious conservative leaders have said they are looking to the GOP to follow through on promises made in previous elections.
"This was an issue that was important enough to campaign on in the 2004 election cycle by Republicans in general, but it's not been important enough to act upon yet," Family Research Council President Tony Perkins said.
Opponents of the proposal called it a cynical attempt to revive the party's sagging poll numbers. (Watch activists head to Capitol Hill for the fight over gay marriage -- 1:47)
"There isn't anyone here who is naive enough to believe that the introduction of this legislation now, in two consecutive election cycles, is anything but a politically motivated effort to win votes by demonizing a class of citizens," said the Rev. Robert Hardies, a Unitarian minister.
White House spokesman Tony Snow said Bush was repeating his endorsement "more in sorrow than anything else, that this may in fact require a constitutional amendment." He tried to play down the political impact of the proposed amendment, telling reporters: "I'm not sure this is a big driver, to tell you the truth, of voters."
But activists say the vote is needed to help rally socially conservative voters who have become disillusioned by the current Republican leadership.
"We don't have an interest in re-electing a Republican Congress if they're not willing to fight for pro-family issues," said Peter Sprigg of the Family Research Council.
Several states have questions related to same-sex marriage on their ballots this year.
Sponsor doubts passage
In 2004, the proposed federal amendment drew 48 of the 67 votes needed to pass, and it may not get as far as it did last time unless supporters can muster the 60 votes needed to end debate on the bill. Its principal sponsor, Sen. Wayne Allard, predicted his measure would get more than 50 votes this year.
"Now is the time to send to the states a constitutional amendment that protects traditional marriage and prevents judges from rewriting our traditional marriage laws," the Colorado Republican said. If Congress does not act, "the courts are going to make a decision for all of us," he said.
Only one Democratic senator -- Nebraska's Ben Nelson -- voted for the amendment in 2004, while several moderate Republicans voted against it.
Meanwhile, the Log Cabin Republicans, a gay GOP group, called Bush's support of the measure "offensive and unworthy of the office of the presidency."
"Wedge-issue politics may score short-term political points, but will end up eroding your ability as president to unite the American people behind winning the war in Iraq, enhancing border security, advancing immigration reform and controlling spending," the group's president, Patrick Guerriero, said in a written statement.
"Your call for civility and decency in this debate rings hollow because the effort to write discrimination into our Constitution is intolerant and uncivil."
A recent Gallup poll found the public split on the amendment, with 50 percent telling pollsters they supported it and 47 saying they opposed it. The poll had a sampling error of plus or minus 3 percentage points.

Home Page

CNN.com gives you the latest stories and video from the around the world, with in-depth coverage of U.S. news, politics, entertainment, health, crime, tech and more.

Home Page

CNN.com gives you the latest stories and video from the around the world, with in-depth coverage of U.S. news, politics, entertainment, health, crime, tech and more.