Maker says not to use contact lens solution
Bausch & Lomb asks retailers to pull ReNu because of risk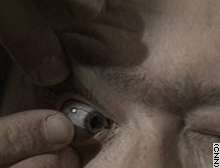 The CDC has received reports of 109 possible cases of fungal eye infection in 17 states since last summer.
Symptoms
Blurry vision
Eye pain or redness
Sensitivity to light
Excessive discharge from eyes
Precautions
Wash hands with soap; dry with lint-free towel
Replace storage cases regularly; change solution daily
(CNN) -- The maker of a contact lens solution linked to a potentially blinding eye infection on Thursday warned consumers not to use the product and asked retailers to pull it from their shelves.
The Centers for Disease Control and Prevention said Monday that public health officials in 17 states were investigating 109 cases of Fusarium keratitis, a rare fungal infection that damages the cornea.
Eight patients had to undergo corneal transplants.
After that announcement, Bausch & Lomb suspended all U.S. shipments of its ReNu with MoistureLoc lens-care solution made at its plant in Greenville, South Carolina, but did not recommend its use be stopped.
On Thursday, the company's CEO strengthened that message.
"I apologize for the confusion of the past few days and will try to clear up what I can," Ron Zarrella wrote in a letter to consumers posted on the Rochester, New York-based company's Web site and to be published Friday and Sunday in regional newspapers and USA Today.
"When reports of a rare eye infection, seemingly associated with our product, began to surface, we began a series of exhaustive tests on our products and a thorough inspection of our U.S. plant. Nothing has yet been found to show that ReNu with MoistureLoc contributed to these infections in any way," Zarrella wrote.
However on Thursday he urged that use of ReNu with MoistureLoc be discontinued "for the time being."
Dr. Daniel Schultz, director of the FDA's Center for Devices and Radiological Health, said, "This is a serious infection and soft contact lens users should be mindful of the potential to develop this problem.
Schultz said the FDA was advising consumers to practice good basic hygiene and follow manufacturers' instructions for proper use, cleaning and storage of lenses and to report any signs of infection to their doctors.
Of the 30 cases that had been investigated by Monday, 28 patients wore soft contact lenses and two reported no contact lens use, the FDA said.
Twenty-six of the 28 soft contact lens users who could recall which solution they used the month before the infection identified a Bausch & Lomb ReNu brand contact lens solution or a generic brand made by the company, the FDA said.
In five cases, patients said they had used other solutions in addition to the ReNu brand, and nine patients said they wore their contacts while sleeping, a risk factor for microbial keratitis.
Zarrella said company officials were working with the FDA, the Centers for Disease Control and Prevention and the Johns Hopkins Wilmer Eye Institute "to identify the cause of this infection. We won't stop until we're finished. If there is a problem with our product, we'll find it and we'll fix it."
Last year, clusters of Fusarium keratitis were reported by contact-lens users in Asia, and in February Bausch & Lomb voluntarily suspended sales of ReNu solutions in Hong Kong and Singapore after reports of infections among users there. The product sold there was made at the South Carolina plant.
The fungus commonly lives on plants and is usually found in warm climates.

Home Page

CNN.com gives you the latest stories and video from the around the world, with in-depth coverage of U.S. news, politics, entertainment, health, crime, tech and more.

Home Page

CNN.com gives you the latest stories and video from the around the world, with in-depth coverage of U.S. news, politics, entertainment, health, crime, tech and more.