Lincoln names: Words out, letters in
Report: Carmaker joins other luxury brands in dropping traditional monikers for alphabet soup.
January 4, 2006; Posted: 3:25 p.m. EST (2025 GMT)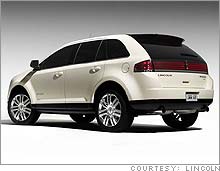 Lincoln Aviator
NEW YORK (CNNMoney.com) - Say goodbye to the Lincoln you could pronounce.
Beginning this fall, Lincoln will join other luxury carmakers in naming its new models with a string of letters instead of actual words, according to a report published in the industry paper Automotive News.
The first model to get the switch will be what has up until now been called the Aviator, which will officially be know as the MKX, according to the article.
The move is an attempt to bolster the image of the Ford Motor Co. brand in light of declining sales over the last few years, the News reported.
Company research suggested that Lincoln owners identified more with the specific model rather than with Lincoln as a brand, saying they drove a Town Car or a Navigator, the report said. The branding switch is an attempt to put the emphasis on Lincoln.
"We think it's important to build the brand image, so changing to this alpha system really helps put Lincoln more in the spotlight as a brand," spokeswoman Sara Tatchio told the paper. "It also indicates a certain level of luxury."
While the MKX, a crossover vehicle, is the first to get the alphabetical name, there are no plans to switch over the entire lineup all at once, the News said. The company still plans to keep the Zephyr name, which was introduced in September on a new 2006 model-year sedan, and says it may rename vehicles when they are redesigned.
A redesigned Aviator, now a car-based crossover SUV, is being reintroduced at the Detroit Auto Show next week. The Aviator is currently a Lincoln version of the Ford Explorer SUV.
Lincoln is a latecomer to the alphabetical name game. Cadillac switched to letters at the beginning of this decade, while Acura has been using them since the mid '90s, the paper said. Other luxury carmakers to use letters include Mercedes-Benz, BMW, Jaguar, Lexus, Infiniti and Audi.
Related:
Super-secret car name decoder story (Sept. 2004)
Mercedes most rapped-about brand in 2005