Feeling of helplessness in Niger camp
Some aid workers say help on the way is too little, too late
From Jeff Koinange
CNN


Editor's note: In our Behind the Scenes series, CNN correspondents share their experiences in covering news.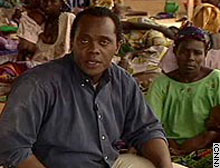 CNN correspondent Jeff Koinange at a refugee camp in Maradi, Niger
MARADI, Niger (CNN) -- The aid agencies caring for more than a thousand starving children at a refugee camp in southern Niger will believe reports of food airlifts when the help actually arrives.
This town in West Africa is home to one of the largest refugee camps run by the aid agency Medecins Sans Frontieres, or Doctors Without Borders.
On Wednesday, the U.N. World Food Program said it would begin a series of airlifts Thursday to deliver emergency rations to feed 80,000 people in Niger. (Full story)
The agency has complained that the international community until recently ignored warnings of a prolonged drought and locust infestation in Niger, leaving more than a million people near starvation.
This week alone, the Maradi camp took in more than 1,100 cases of severely malnourished children. That is the highest it's ever had and it keeps growing.
The camp contains a group of tents divided according to the severity of the refugee's condition.
Aid workers weigh the children when they arrive and put wrist bands on them depending on how much they weigh -- red for critical cases, yellow for borderline and blue if they are well enough to make it through another week or so.
In the intensive care unit, all the beds are filled, with at least 100 children all under the age of 2 with their mothers, waiting for nutrition and getting attention from the doctors and nurses.
Seeing these children screaming and yelling, the feeling is harrowing. They're screaming because they're hungry and ridden with diseases -- everything from cholera to malaria to pneumonia.
Doctors at the camp say the situation will get worse before it gets better, with so many more many people arriving each day. If help does not arrive soon, they say, many more children will die.
This time last year, aid workers say, they had less than half the number of people arriving.
To make it worse, the rainy season has arrived, and diseases are aid workers' biggest concern.
Malaria is already the biggest killer of children under 2 years old in Africa, and it will claim the lives of many children in Niger, because they are out in the bush, exposed to a rampant mosquito population.
The help that is on the way is too little, too late, some aid workers say. Talk of aid coming has been heard before.
Several aid agencies are on the ground in southern Niger, and they say it's already too late for many children, thousands of whom have died, hundreds of thousands of whom are threatened with imminent death.
A plane from Oxfam was said to be due this evening in the capital, Niamey, and the British-based aid group will truck sackloads of nutritional supplements in the coming days. But the 400-mile (660-kilometer) drive to Maradi will take several days.
After two days here, we have seen many people arriving, some of them having trekked hundreds of miles. The mothers arrive with parched and cracked feet, but happy just to make it to the camp.
The aid workers say these are the lucky ones. In the countryside and in the villages, we are told, there are more deaths, with people too weak to walk and too sick to cry out for help.
Some agencies have ambulatory services enabling them to actually visit some villages, but in a country this large, they cannot cover it all. They need help.
In those same two days in Maradi, just one aid truck has arrived, half-filled with food.
Despite their desperate situation, refugees cheered the shipment, which was quickly unloaded and taken into warehouses. Unarmed guards protected the supplies to prevent ransacking.
People at the Maradi center welcomed the help, saying that they would at least have food for the next few days, possibly the next few weeks, depending on how many more people arrive.
For a journalist who has covered refugee camps across Africa -- from Darfur, Sudan, to Eastern Congo to Liberia -- each time there is the haunting feeling of a desperate child staring up at you with big, brown eyes.
The feeling is one of helplessness, but there is nothing one can do. We're just here to tell the story. But at the end of the day, the experience is heart-wrenching and very draining.

Home Page

CNN.com gives you the latest stories and video from the around the world, with in-depth coverage of U.S. news, politics, entertainment, health, crime, tech and more.

Home Page

CNN.com gives you the latest stories and video from the around the world, with in-depth coverage of U.S. news, politics, entertainment, health, crime, tech and more.