Heroes make the best of a bad situation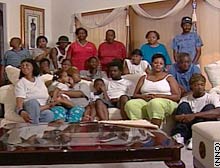 Kirby Robinson, Houston, Texas, with some of his 27 unexpected house guests.
(CNN) -- Conditions in New Orleans Methodist Hospital deteriorated quickly as Hurricane Katrina roared through the area.
Part of the hospital's roof blew off. Power was lost. Snakes swam in the water that flooded some hallways. And the hospital's diesel fuel was commandeered by FEMA.
"We lost our generator within 24 hours. We could not get fuel. We had to hand-bag ventilate patients," Dr. Albert Barracas said. In the midst of this chaos, the hospital's doctors worked around the clock, putting their patients' health above their own.
Such stories, heroic stories, abound in the midst of the death, destruction and displacement of Hurricane Katrina. This storm, which landed a cruel blow to the Gulf Coast region of the United States, has led many ordinary Americans, like Dr. Barracas, to do some extraordinary things.
Friends in need
Another ordinary hero is Kirby Robinson, a resident of Houston, Texas.
In the days after the storm, Robinson was contacted by a childhood friend, Demond Lemon, who called to say he had been flooded out of his New Orleans home.
So Robinson took in Demond and his immediate family. Then Demond's mom and a friend of hers needed a place to stay. Then five children from Demond's neighborhood needed shelter. Then more friends and relatives called.
Before Robinson even had time to catch his breath, he found himself housing 27 people.
"I can't see nobody who could actually turn people away. If you have any space in your house, you should at least let 'em in," Robinson told CNN.
Robinson, who was late with the September rent payment for his own small apartment, doesn't have any room at his place. So he is housing everyone at his mom's ranch house, which sat empty since she left to work in Iraq as a contractor.
"She's not gonna know about this until she sees it on the news ... that all these people are in her house," Robinson said.
Food stamps pay for some food. Robinson is pitching in with whatever money he has left after supporting his three kids and his wife, Tiffany, who has decided to put off college this semester to help care for her unexpected guests.
Signs of hope
Even as Robinson is busy housing hurricane evacuees in Houston, Kevin Regan, a vice president of Starwood Hotels, is beginning the long process of rebuilding his company's three New Orleans properties -- the Sheraton New Orleans, the W Hotel French Quarter and the W Hotel New Orleans.
"I think we're going to be up and operating and we're gonna have a few hundred rooms within the next coming week in each of these properties. We're gonna house all the contractors. We'll get the city rebuilt," Regan told CNN.
Regan believes the post-Katrina progress at these hotels is due to careful planning before the storm hit.
As Katrina rumbled toward the Crescent City, Regan lined up generators, electricians and supplies, and all the guests were consolidated into one hotel to ride out the storm and then evacuate.
Because of this, Regan was able to turn on some lights, including the Sheraton's welcome sign, within a few days of Katrina knocking out the city's power. Supplies are on the way for the W New Orleans, which lost half its windows. Humidifiers are drying carpets at the Sheraton. And three blocks away at the W French Quarter, hotel chefs are laying plans to restart the kitchen.
In a city battered by wind and water, Regan's rebuilding is a sign of hope and progress.
"We had gunfire up and down here. We had looters over here. We drove in with a bus. We had people jumping in the windows stealing stuff. We had one gasoline truck that was commandeered by the feds when it was coming in the other day. But from our perspective, the easiest thing for us was to get everything up and rolling," Regan said.
Officer stands ground
The job of protecting people like Regan fell to New Orleans' battered police department.
With nearly a third of their colleagues missing, the remaining officers struggled to keep the peace under often trying circumstances -- flooded streets, no lights, low fuel, heavily armed criminals, scarce food and decimated homes.
The officers who stayed on the job, such as Detective Lawrence Dupree, gave their all to protect and rescue a poor and occasionally confused population. Some poor people Dupree found were afraid the helicopter ride would cost too much.
"Did they have to purchase a ticket?" Dupree said some people asked. "They were afraid it would cost too much, and that kind of hits you."
The overwhelming nature of the hurricane's destruction and the ensuing search, recovery and rescue mission was more than some officers could take. In addition to those who just walked off the job, Dupree lost two colleagues to suicide in the days after the storm.
"If we really acted the way the situation dictated, we would all be killing ourselves," Dupree told CNN. "But we are making the best of a bad situation, and it's brought us closer together."
From housing evacuees to rescuing poor New Orleans residents to rebuilding hotels, many people across the country are doing what they can to make the best of a bad situation.
Elizabeth Cohen, Drew Griffin and Sean Callebs contributed to this report.

Home Page

CNN.com gives you the latest stories and video from the around the world, with in-depth coverage of U.S. news, politics, entertainment, health, crime, tech and more.

Home Page

CNN.com gives you the latest stories and video from the around the world, with in-depth coverage of U.S. news, politics, entertainment, health, crime, tech and more.