Whodunit? The world may never know
The ever-discreet Bob Woodward gives few hints as to his source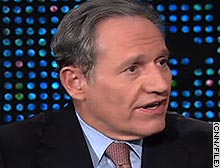 Bob Woodward said a Bush administration official's reference to Plame was "casual and offhand."
WASHINGTON (CNN) -- It's not like Bob Woodward, arguably the most famous American newsman of all time, needed another "Deep Throat" to bolster his fame -- but that may very well be what he has.
Speculation abounds -- again -- over Woodward's secret source. This time, though, instead of Watergate, the source involves the leaking of CIA operative Valerie Plame's name to the media.
Plame's name was first publicly dropped in a July 2003 article by syndicated columnist and CNN contributor Robert Novak. Like Woodward, Novak has consistently refused to divulge his source.
Woodward apparently learned Plame's name a month before Novak's column was published, but that is the bulk of the scant information released by the Washington Post ace and his superiors, who say Woodward has not been relieved of his pledge to keep the source confidential. (Watch Woodward's statement -- 2:15)
Though he won't talk publicly, Woodward did give a deposition on Monday to special prosecutor Patrick Fitzgerald, who is investigating the leak. Woodward granted the deposition after his source told Fitzgerald about the conversation.
But Fitzgerald, as he has been for the entirety of the two-year probe, is just as reticent as Woodward.
"I'm not going to comment on news reports. I don't comment on ongoing investigations, and I don't comment on pending trials other than at court," said Fitzgerald, who already has orchestrated the indictment of Lewis "Scooter" Libby, Vice President Dick Cheney's former chief of staff, on charges of perjury, making false statements and obstruction of justice. (Full story)
Woodward has hinted that his source is an unnamed Bush administration official. The public may never learn his source, as Woodward, now an assistant managing editor at the Post, has a solid track record of keeping his sources confidential.
In July, Vanity Fair magazine revealed that the former No. 2 man at the FBI, W. Mark Felt, was "Deep Throat," the source whose leaks to Woodward and fellow Post reporter Carl Bernstein unveiled the Watergate scandal and ultimately led to the resignation of President Richard Nixon in 1974.
Legal experts have speculated that Woodward's source in the Plame affair came from within the White House, State Department or CIA, but White House officials have ruled out President Bush; his Chief of Staff Andrew Card; Bush's counselor, Dan Bartlett; and National Security Adviser Stephen Hadley.
Woodward, too, has said it wasn't Card. It wasn't Libby, either, he said. (Full story)
White House Deputy Chief of Staff Karl Rove is out, too, according to his spokesman. Rove is known to have talked to other reporters about Plame and remains under investigation in the matter.
A spokeswoman for former Secretary of State Colin Powell said he was not the source, and a spokesman for then-Deputy Secretary of State Richard Armitage had no comment.
Spokesmen for then-CIA Director George Tenet and former CIA Deputy Director John McLaughlin, now a CNN security analyst, said neither man was Woodward's source.
So who is Woodward's new "Deep Throat?" Considering Woodward's history, it may be 30 years before anyone finds out.

Home Page

CNN.com gives you the latest stories and video from the around the world, with in-depth coverage of U.S. news, politics, entertainment, health, crime, tech and more.

Home Page

CNN.com gives you the latest stories and video from the around the world, with in-depth coverage of U.S. news, politics, entertainment, health, crime, tech and more.