Toobin: Roberts '100 percent conservative'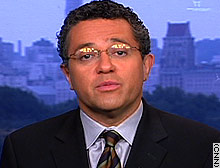 Legal analyst Jeffrey Toobin
NEW YORK (CNN) -- President Bush on Tuesday selected U.S. Circuit Judge John Roberts Jr. as his nominee to replace retiring Justice Sandra Day O'Connor on the Supreme Court.
CNN legal analyst Jeffrey Toobin discussed Bush's selection Tuesday night with CNN anchor Heidi Collins.
COLLINS: We have a name that we have not really heard much about today, anyway.
TOOBIN: He's been on the lists all along. He is an intellectual heavyweight. There's no doubt about it. He's is one of the most accomplished Supreme Court advocates of his generation. That is, by the way, a rather young generation, as Supreme Court justices go. He's only 50 years old, and he has a very limited record as an appeals court judge.
He has not been on the appeals court in the D.C. circuit for very long. The Democrats won't have a lot to shoot at, as it were, in terms of his record as a judge.
And he is likely to be a very good witness in his own behalf, because this is a very smart guy and he is used to ... arguing before the Supreme Court. It's not the same thing as sparring with the Senate Judiciary Committee, but it calls on some of the same skills and Roberts should be very well suited for that task.
COLLINS: This will tip the tables, though, if you will -- Sandra Day O'Connor being a moderate, as we have all discussed ... someone right down the middle. Now we're talking about a different number. What does that mean when we're talking about these cases that will be decided for this country?
TOOBIN: The first thing we have to learn is: What does John Roberts stand for? ...
He does not have a public profile. He's not [President Reagan's rejected nominee] Robert Bork, who had spoken out on all the great issues of the day. Yes, when he was working in the solicitor general's office in the [first] Bush administration, he signed a brief that said Roe v. Wade should be overturned, but we don't know if he personally believes that.
COLLINS: Confirmation needs to happen semi-quickly. The term starts in October.
TOOBIN: He's a candidate who will likely wear well under that process. You know, in 1992, the first President Bush nominated him to the D.C. circuit, and in a bitter disappointment ... his nomination was never acted on by the Democratic Senate. ...
Things have worked out OK for John Roberts. He wound up being nominated by the second President Bush, took his seat on that very court in 2003. Now he's a nominee for the highest court in the land, and he's going to be a strong candidate.
COLLINS: Are you surprised by this?
TOOBIN: Not terribly surprised. We had so many names floating around today, but John Roberts has always been on the list. [He is] very accomplished [and has] very little bit of a paper trail. I think of what a conservative I know said to me who knows John Roberts well when I was asking about him.
He said, "He's 100 percenter." In other words, he's 100 percent conservative, but it will be very difficult for the Democrats to define him in some extreme way, because there's no paper trail, there is no documentation that will support that theory.
COLLINS: The main issue is going to come down to what?
TOOBIN: Abortion. I think [with] this, as always with the Supreme Court, Roe v. Wade will be the central subject of discussion in the confirmation hearings. It's very likely there will be a lot of questioning of John Roberts about this brief he signed when he was in the solicitor general's office saying Roe v. Wade should be overturned.
He was representing a client at that point. The client was the first President Bush, who wanted Roe v. Wade overturned. The question will be, how much was John Roberts expressing his own views or just his client's?
COLLINS: Right, and of course this is an issue that is on the docket, the first major abortion battle in five years.
TOOBIN: There will be a parental notification case out of New Hampshire. It doesn't squarely take on Roe v. Wade, but it will surely be a clue which way Justice Roberts, if he becomes Justice Roberts, is going. And it's very likely we'll be hearing from him on the court come the fall.

Home Page

CNN.com gives you the latest stories and video from the around the world, with in-depth coverage of U.S. news, politics, entertainment, health, crime, tech and more.

Home Page

CNN.com gives you the latest stories and video from the around the world, with in-depth coverage of U.S. news, politics, entertainment, health, crime, tech and more.