Beer enthusiasts know better than to board an airplane with high expectations.
After all, inflight offerings are usually limited to mass-produced beers like Budweiser, Carlsberg or Tsing Tao.
But a few airlines are pouring some love into onboard beer experiences.
Kicking off the movement, Scandinavian Airlines (SAS) teamed up with Danish brewer Mikkeller in 2014. Since then, the airline has introduced a dozen specialty beers on routes around the world.
Meanwhile, Dutch airline KLM worked with Heineken last year to serve inflight draft beer in business class, after developing a new technology that uses pressure to pump beer, as carbon dioxide is too dangerous to bring onto an aircraft.
The latest to join the fold is Hong Kong-based Cathay Pacific. The airline collaborated with Hong Kong Brew Co. to develop its new Betsy Beer, now available in premier cabins on select Hong Kong-UK flights.
READ: Budget airlines: 10 things to learn from bargain flier Richard Quest
Introducing Betsy Beer
Named after the airline's first plane – a 1940s Douglas DC-3 – Betsy is an unfiltered wheat made with pilsner, featuring Hong Kong honey, longan (or dragon eye) fruit and English Fuggle hops.
The result is light and fresh, just a tad sweeter than your average wheat beer. Overall, it's an easy ale that's unlikely to offend anyone.
To bring Betsy Beer to life, Cathay Pacific enlisted Hong Kong's oldest craft brewer, Hong Kong Brew Co.
Hong Kong Brew Co. "is very artisanal and pays much more attention to quality over quantity," says Priscilla Chok, marketing manager at Cathay Pacific. "Light ales are well received in Hong Kong so we went in this direction."
To nail down the recipe, Cathay Pacific invited local beer specialists, restaurateurs, frequent fliers and cabin crew members to weigh in.
A panel taste-tested 12 different ingredients in combination with the wheat-based beer.
"The honey was the obvious addition as this helps to reduce the hop bitterness which is accentuated (in flight)," says Toby Cooper, founder of the Hong Kong Craft Beer Association, one of the nine panelists.
"The Fuggle hops give nice earthiness and the longan fruit sits nicely in the background. We discounted using tea quite quickly as we didn't feel anything with tannins would help."
MORE: Hong Kong's best new bars
Beer at 35,000 feet
While beer enthusiasts may appreciate such artisanal offerings, there's much more to brewing beer for an airplane's microclimate than meets the eye.
Cabin conditions such as pressure, oxygen and humidity can dramatically affect taste.
With just 6-10% humidity at 35,000 feet, a long-haul flight is drier than many deserts. It's no surprise that nasal passages dry up and aromas are stifled.
And while salty and sweet flavors seem suppressed, bitter flavors tend to go into overdrive.
"In an airplane environment, you lose anywhere from 15-30% of your sense of taste and smell," explains Nik Loukas, a travel industry veteran and founder of airline dining website Inflight Feed.
To balance bitterness and sweetness and amp up aroma, brewing beer for the air required a new strategy.
"The place where [the beer] is most different is that the beer has about 10% carbonation. That's to push the aroma and counteract the numbing of the senses you get inflight. This makes the beer livelier on the tongue," says Devin Kimble, director of Hong Kong Beer Co.
"Fuggle hops also enhanced the aroma. These hops are very much known for their herbaceous and floral qualities – they really complement the other two ingredients [honey and longan]."
READ: The best airline meals, according to an in-flight food addict
In good company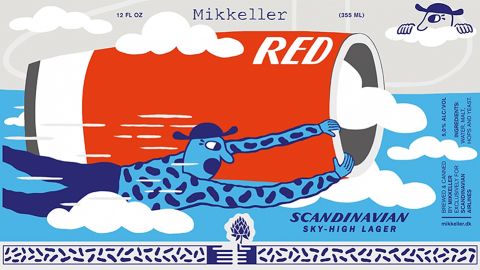 Cathay Pacific isn't the only airline to develop made-for-flight craft beers.
A pioneer in the space, Scandinavian Airlines introduced craft beer to its inflight menus as early as 2007, but didn't develop beers specifically for altitude until 2014.
The carrier also takes part in beer festivals, and even holds inflight beer tastings for passengers.
"Our craft beers have now become a big part of our service and it's great to see that other airlines now finally following what we have been doing for years," says Peter Lawrance, SAS head chef and meal planning manager.
In 2014, Lawrance approached experimental Danish brewery Mikkeller – a "gypsy" brewery that changes location based on a recipe's intended flavor profile.
The collaboration began with Sky-High Wit – a Belgian wit beer with a light and fruity taste.
"​We did a number of tastings to figure out what adjustments to make [for flight]," recalls Mikkeller founder Borg Bjergsø. "It took a very long time to completely understand what happens to the beer at altitude."
"But the first time we went live [with the beer], it was a small plane where they used dry ice to cool the beer. It did not react well to that. The carbonation was way off, but luckily the recipe worked perfectly well on the normal flights.​"
A passenger favorite, the original SAS x Mikkeller beer is available on more than 1,000 flights daily.
MORE: Southern Lights put on show for passengers on special flight
A crafty adventure
SAS has debuted 11 Mikkeller beers so far, with six more in the pipeline – some of which are small-batch bottlings.
"People expect beer to be bad onboard an aircraft, since they are so used to getting average quality for years, but the range we have puts most bars to shame," says Lawrance.
"Jaws usually tend to drop when we serve a spontaneously fermented wild mango-flavored barrel-aged Lambic-style beer."
The latest to join the lineup? A crispy Plane Ale, showcasing caramel aromas, American hops and citrus notes.
Exclusively for business cabins, SAS also introduced Past, Present & Future this February.
Served in decadent 750cl Champagne bottles, the light Belgian ale has been aged in Chardonnay barrels, bringing out a rich mouthfeel with hints of apricot.
"We will see a lot more collaborations like these in the future," predicts Loukas. "I think it's only time before other airlines start creating their own beers or wines."
"These details – how [airlines] are thinking about high altitude and doing tests will create a better overall dining experience that people will want to talk about after the flight."
READ: Skip the pasta! And other unsavory truths about airplane food
Kate Springer is a Hong Kong-based freelance journalist who covers food, travel, culture, architecture and innovation for CNN, BBC Travel, Forbes Travel Guide, Fodor's, Munchies and more. Follow along on Instagram and read more of her work here.