Bios and Headshots
Soledad O'Brien
Biography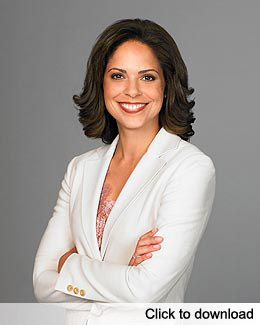 Soledad O'Brien is an anchor and special correspondent for CNN/U.S. Since joining the network in 2003, O'Brien has reported breaking news from around the globe and has produced award-winning and record-breaking documentaries on the most important stories facing the world today. She also covers political news as part of CNN's "Best Political Team on Television."
O'Brien's most recent documentaries include Rescued, a look at Haiti's remarkable children before, during and after the devastating earthquake and Gary and Tony Have a Baby, the story of two gay men and their struggle to have a baby that has a biological and legal connection to both of them. In 2009, Soledad reported for Latino in America, a wide-ranging look at Latinos living in this country; how they're reshaping America and how America is reshaping them. Prior, O'Brien reported for Black in America 2, a four-hour documentary focusing on successful community leaders who are improving the lives of African-Americans. O'Brien's reporting for Black in America in 2008 revealed the state of Black America 40 years after the assassination of Dr. Martin Luther King Jr. She has also reported for the CNN documentary Words That Changed a Nation, featuring a never-before-seen look at Dr. King's private writings and notes, and investigated his assassination in Eyewitness to Murder: The King Assassination. Her Children of the Storm project and One Crime at a Time documentary demonstrate O'Brien's continued commitment to covering stories out of New Orleans.
O'Brien joined CNN in July 2003 as the co-anchor of the network's flagship morning program, American Morning, and distinguished herself by reporting from the scene on the transformational stories that broke on her watch, including Hurricane Katrina and the tsunami in Southeast Asia. For CNN's Katrina coverage, O'Brien's reports on the storm's impact included an in-depth interview with former FEMA chief Michael Brown. She also covered the London terrorism attacks in July 2005, and in December 2004, she was among a handful of CNN anchors sent to Thailand to cover the disaster and aftermath of the tsunami.
O'Brien was part of the coverage teams that earned CNN a George Foster Peabody award for its Katrina coverage and an Alfred I. duPont Award for its coverage of the tsunami. Her numerous other awards include a Gracie Allen Award in 2007 for her reporting from Cyprus on the Israeli-Hezbollah conflict as well as her reports from the Gulf Coast after Hurricane Katrina. The NAACP honored her with its President's Award in 2007 for her humanitarian efforts and journalistic excellence. In 2008, she was the first recipient of the Soledad O'Brien Freedom's Voice Award from the Morehouse School of Medicine for being a catalyst for social change. Also in 2008, O'Brien was the first recipient of The Johns Hopkins Bloomberg School of Public Health's Goodermote Humanitarian Award for her efforts while reporting on the devastating effects of Hurricane Katrina and the Southeast Asia tsunami. In 2009, she received the 2009 Medallion of Excellence for Leadership and Community Service Award from the Congressional Hispanic Caucus Institute.
O'Brien came to CNN from NBC News where she anchored the network's Weekend Today since July 1999. Prior, O'Brien anchored MSNBC's award-winning technology program The Site. O'Brien joined NBC News in 1991 and was based in New York as a field producer for Nightly News and TODAY. Before her time at NBC, she served three years as a local reporter and bureau chief for the NBC affiliate KRON in San Francisco. She began her career as an associate producer and news writer at the then-NBC affiliate WBZ-TV in Boston.
O'Brien is a member of the National Association of Black Journalists and the National Association of Hispanic Journalists. She is a graduate of Harvard University.
© and ® 2010 Cable news Network LP, LLLP. A Time Warner Company. All Rights Reserved.