A new timeline
The timeline of events on December 3, 1957 – and John Tessier's alibi – were central issues in the investigation. Kot believed misinformation and faulty conclusions had entered the case during its early hours. He began building a detailed timeline to test those old assumptions.
It took months to gather all the documents scattered among the Sycamore police, Illinois State Police and the FBI archives. But Kot's paper chase brought in thousands of pages, which he studied, tabbed and organized in binders. His timeline grew to cover three walls of his office. And as he looked closer, he saw that there were only two sources for Tessier's alibi: Tessier himself and his parents.
Tessier said he was in Chicago the morning of Tuesday, December 3, taking a physical to gain entry into the U.S. Air Force. Kot was able to verify that. But he learned that Tessier left the recruiting station by noon that day. He later was seen in Rockford, nearly 90 miles from Chicago, at about 7:15 p.m. But there was nothing to verify his whereabouts between noon and 7:15 p.m., which means he easily could have returned to Sycamore before showing up in Rockford.
Initial reports set Maria's disappearance at about 7 p.m. But reading the old files, Kot realized that information may have been injected into the case by the kidnapper himself. When Kathy ran home to fetch her mittens, she asked "Johnny" what time it was, and he told her it was 7 p.m.
Kot dug up an Illinois State Police report dated July 27, 1958 – three months after Maria's body was found. "We feel certain facts may have been overlooked," it began, concluding that Maria had been taken earlier than initially reported, and that her abductor had probably escaped by running up the alley and jumping into a car parked on a back street.
And so, Kot homed in on facts that had been ignored earlier because they didn't fit the original 7 p.m. timeline. Phone records and other details fleshed out after the first chaotic days of the investigation had prompted the girls' mothers to adjust what they believed to be the timing of events. At first, Maria's mother said the girls went outside at 6:30 and that Maria came back in for her doll at 6:40. Later, she said Maria could have gone out as early as 10 minutes to 6.
Kathy's mother set the precise time at 6:02 p.m., although the reason for her precision has been lost to time. Maria's mother pulled out of her driveway at 6:05 p.m., taking daughter Kay to a music lesson. Frances Ridulph recalled waving to the girls, who were playing in the street in front of the house.
Kot examined closely the accounts of the most neutral, credible witnesses at the time: A heating oil deliveryman and a city bus driver.
Tom Braddy knew Kathy Sigman and her family, and he recalled that she waved at him as he stopped to deliver oil at the big white house on the corner of Archie Place and Center Cross Street, where the girls were playing. He estimated he got there about 6 p.m. and spent 15 to 20 minutes delivering his load. He noticed the time on a clock at a service station as he headed back to his office: 6:20. He did not see the girls on the corner as he left.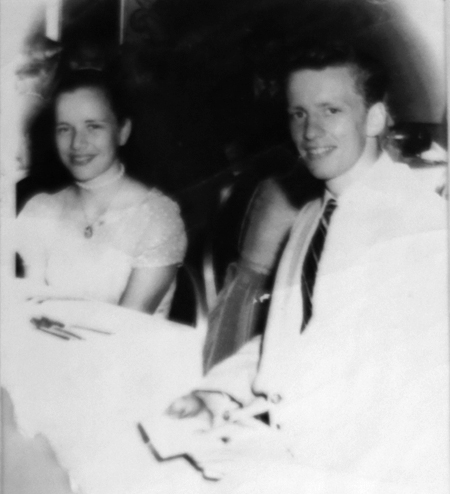 A city bus passed by that corner at 6:30 p.m. The driver said he saw no one there.
Kot concluded that Maria was taken no later than 6:20 p.m. If Tessier parked his car in the back alley where Maria's doll was found, he could have headed straight to Rockford with Maria in his car. It was a 40-mile trip, give or take a few miles, but there would have been little traffic on the back roads in 1957, and he easily could have made it to Rockford in less than an hour.
A collect phone call placed in Rockford to the Tessier home – a key piece of John's alibi — also fit into the new timeline.
Phone records showed the collect call was placed at 6:57 p.m. but they didn't pinpoint where in Rockford the call was made. Tessier could have called home from a pay phone on the outskirts of town.
Maybe, Kot thought, Tessier's alibi wasn't so ironclad after all. Maybe the phone call from Rockford wasn't Tessier asking his stepfather to pick him up at the recruiting station there, as he'd maintained. Maybe the call was made by a nervous Tessier wanting to see if anyone was looking for Maria yet.
As they drilled down deeper into the case, Kot and Hanley also found a reason why Sycamore police might not have taken a closer look at Tessier as a suspect. It was a small town and everybody knew everybody else. His stepfather, Ralph, was friendly with the police chief, William Hindenburg. John himself had volunteered to the Air Force recruiter that he'd never be a suspect in the girl's disappearance because his girlfriend's father worked for the DeKalb County Sheriff's Office.
The girlfriend, then known as Jan Edwards, was part of his story, too. He said they met for a date at about 9:20 that night, after his stepfather picked him up in Rockford and brought him home. Kot and Hanley tracked her to Florida, where she and her husband had retired. She agreed to talk about her old high school boyfriend, but only if she could have her lawyer with her. She was a reluctant witness, perhaps, but she gave Hanley and Kot one of their biggest breaks.
She told the cops she never saw Tessier on the night of December 3. Her parents were so upset about the abduction of Maria, so afraid a crazed kidnapper was on the loose, they wouldn't let her out of the house.
Hanley asked whether Edwards had a good picture of John from 1957. He hoped to show a photo lineup to Maria's friend, Kathy, who had seen and talked to "Johnny," the kidnapper.
Because Tessier was expelled from school, there was no 1957 yearbook photo of him that accurately showed what he looked like then.
What are the chances someone would save a photo from a high school dance half a century ago? Jan Edwards told the cops she'd take a look. She called a few days later. Yes, she had found a picture of John. It was taken at a formal in June 1957. She'd be happy to mail it.
When the photo arrived at the state police offices in Elgin, outside Chicago, Hanley was pleased he had something he could work with. On the back was a bonus: It was signed, "Love, Johnny."
Another break came when he pulled the photo from its cardboard frame. A small, yellowed square of paper fluttered out. It appeared to be a government-issued train ticket. Tessier was supposed to use it to travel to Chicago for his induction physical on December 2. The train would leave from Rockford; there was no passenger train from Sycamore.
It was a one-way ticket, and it didn't appear to have been punched. Kot reasoned that Tessier never took the train to Chicago on December 2. He must have found another way to get into the city, most likely his own car. And if he had his own car in Chicago, he could have driven back to Sycamore on December 3, during the noon to 7:15 p.m. window in which his whereabouts could not be verified.
A high school friend later told Hanley that he remembered seeing Tessier's car cruising through Sycamore at about 2:30 p.m. on December 3. He didn't see who was behind the wheel, but he knew Tessier never let anyone else drive his baby.
Cops are cautious by nature. But even if Hanley and Kot weren't dancing around the room exchanging high fives, this was huge. They'd poked a big hole in Tessier's alibi. If he'd lied about how he got around, what else was he lying about?
Kot sent the ticket to the Illinois Central Railroad Historical Society, and the cops got the word on June 2, 2010: The ticket was authentic, and it had not been punched.
They now felt certain they could solve this cold case.