'They made me feel like dirt'
Michelle Weinman says she fled the wrath of her father and ran into the hands of a man who would abuse her in his own way.
She was 15. He was a cop.
CNN usually does not name the victims of sexual assaults, especially underage victims. But Weinman, now 46, agreed to tell her story on the record and to be photographed. She says stepping out from behind the stigma has helped her heal.
She'd lied about skipping detention at her high school on the outskirts of Tacoma, Washington, and knew her father would punish her. So she ran away. She was joined by a friend who knew a Milton policeman who said they could stay with him. The girls slept on a hide-a-bed in the living room of John Tessier.
He was in his 40s by then, but he wasn't playing the father figure. "He was as old as my own father, but he would try to be the cool guy," Weinman told CNN. He took her to the movies, out to dinner, to the mall. He taught her to drive in his squad car at a park overlooking the city. He let her work the lights and siren, and that was exciting. He made sure she stayed in school.
He bought her the first record album she ever owned, Joan Jett's "I Love Rock 'n' Roll." But first, he made her promise she'd be good.
He taught her how to dress and apply makeup. She thought that part of their deal was strange, but he was a police officer, so she trusted him.
"I was raised to fear God, trust police officers and respect teachers," she said.
Then came the massages: She'd lie on the floor while he moved his hands over her back.
He told her she could work in a massage parlor when she got older. He pulled down her pants and rubbed her buttocks. It was creepy and made her uncomfortable, but she never said anything to anyone.
Weinman felt grateful for a place to live.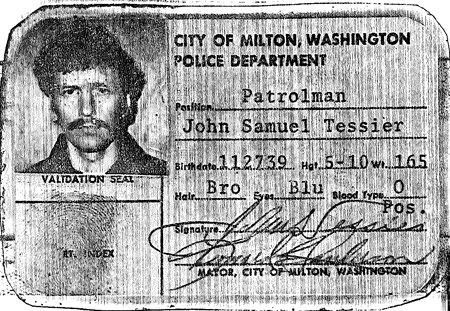 During the weeks the girls stayed at his apartment, Tessier made a habit of kissing them goodnight. One evening, he gave Weinman's friend "a boyfriend kiss."
"And she said, 'Does he do that to you?' I said, 'Gross, no.'"
Weinman assumed if any funny stuff happened, he'd focus on the other girl, who was more developed, more mature. But then one night, Weinman says, he came for her.
She was asleep on the sofa bed. He whispered in her ear, waking her. Before she could figure out what was going on, she said, he was performing oral sex on her.
"I couldn't stop it. I think I just lay on the couch and froze. I couldn't scream. I was so scared. I was ashamed."
She told her girlfriend, and a counselor pulled Weinman out of class the next day. Police questioned her, but they didn't seem to believe her.
"They were really, really mean to me," she recalled. "They scared me so bad. I didn't know how to tell them what had happened. So they started yelling at me. This one particular guy started yelling at me and telling me I was nothing but a tramp, telling me he was going to make it look like I wanted it, that I begged for it. That they were going to make my life hell, that they were going to drag me through the mud."
There was no medical exam, no counseling, not even a female police officer to question her, she said. "I was turning in a police officer for violating me in the most vulgar way. They made me feel like dirt. They made me feel like I didn't deserve to be happy."
The investigators, all men, worked for a larger department from a neighboring town, Weinman said. But they made no secret that they were not happy she was accusing a cop.
John Tessier was charged with statutory rape but pleaded guilty to a lesser charge: communication with a minor for immoral purposes. He denied then and denies now that he sexually assaulted Weinman, and says he took the deal because he couldn't afford a lawyer. He was placed on probation for a year and quietly resigned from the Milton Police Department on March 10, 1982.
Weinman said she blocked the experience from her mind for more than 30 years — until an agent with the Illinois State Police walked into the bar where she works and asked about John Tessier.