Map: Shooting in Santa Monica
Four people have been killed in a shooting rampage in Santa Monica, California, that ended Friday in the library of Santa Monica College with the suspected gunman also dead. Police Chief Jacqueline Seabrooks said there were as many as six incidents across the city, culminating at the college. Below is an overview of where some of the events took place. Full story »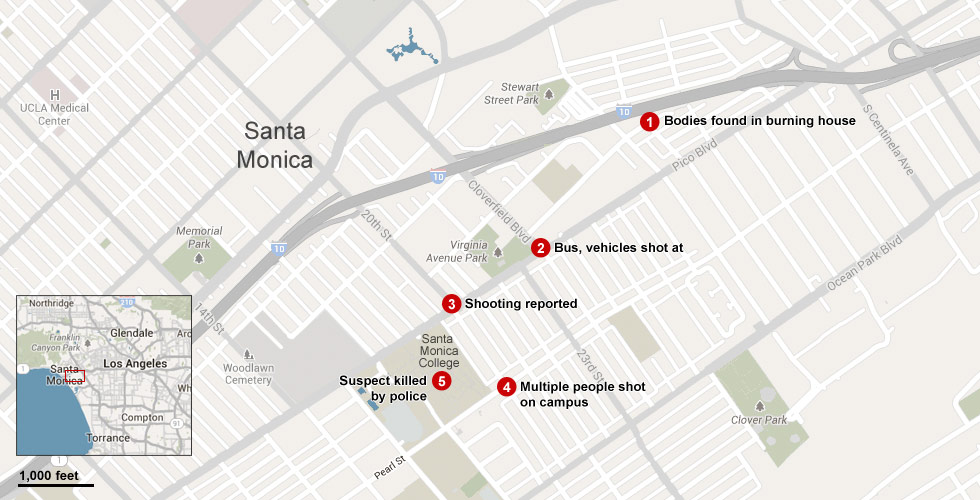 Firefighters respond to a structure fire shortly before noon local time at 2036 Yorkshire Avenue, according to Santa Monica Fire Department officials. Two bodies are found in the house. Another woman, shot and injured, is found in a car outside the house.
A suspect makes his way west along Pico Boulevard. Shots are fired at a bus and passenger vehicles near Cloverfield Boulevard and Pico Boulevard. Three passengers on the bus suffer minor injuries, said Sgt. Richard Lewis of the Santa Monica Police Department.
Another random shooting is reported near 20th Street and Pico Boulevard. Witnesses describe the weapon as an assault rifle, believed to be an AR-15.
A suspect opens fire on a red Ford Explorer as well as police in a parking lot adjacent to Santa Monica College. The driver of the Explorer was killed.
The suspected shooter was dressed all in black and appeared to be wearing a tactical vest, according to a witness on campus.
The suspect heads into the library of the college, where another person is shot. That victim later dies at the hospital. The suspect is shot and killed by police in the library, according to city Police Chief Jacqueline Seabrooks.