On January 25, fueled by protests in Tunisia, people across Egypt took to the streets in what would be the beginning of weeks of demonstrations against corruption, failing economic policies and the regime of President Hosni Mubarak. iReporters were there to document the uprising.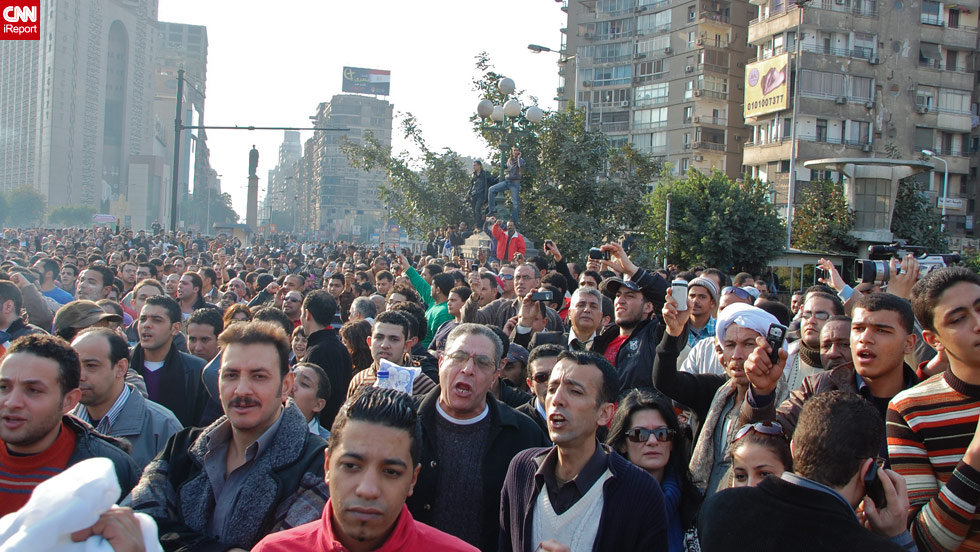 Courtesy Dax Bennett Roque
Day 1: iReporter Dax Bennett Roque, a bookstore manager in Cairo, watched a small group of protesters whose numbers grew as they marched towards Tahrir Square in the heart of Cairo.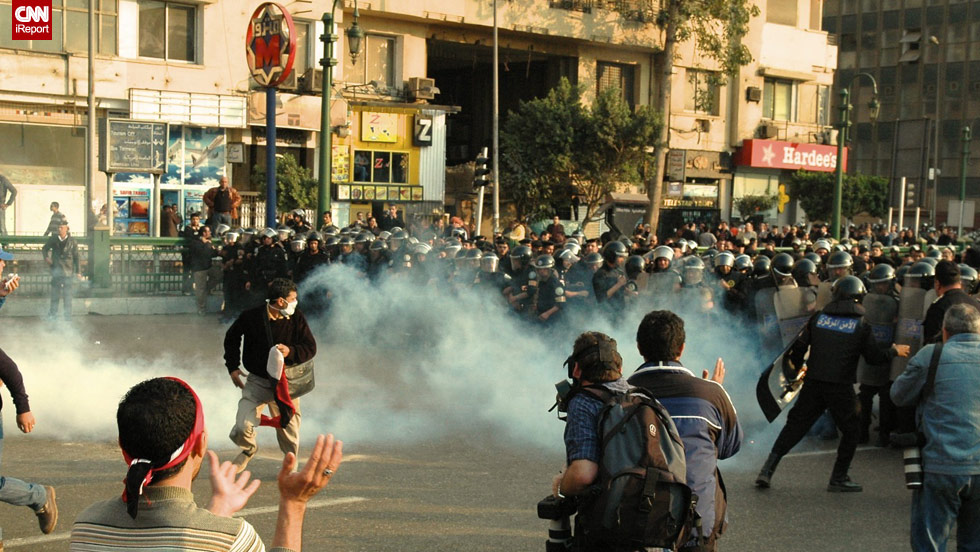 Courtesy Zeyad Mourad
Crowds yelled "Down with Mubarak" in the heart of Cairo. Protesters clashed with police, who tried to disperse crowds with water cannons and tear gas. Protesters made a game of throwing tear gas bombs back at the police. "They just kick it while it's still smoking like crazy and throw it back at the policemen," said Zeyad Mourad of Cairo, who attended the demonstrations. "The tear gas, it doesn't just bring tears to your eyes, it chokes you to the point where you … can't breathe, you're crying, everything is burning."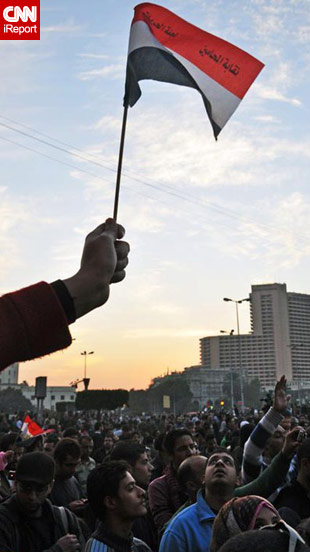 Courtesy Omar Ehab
Omar Ehab, a high school student in Cairo, said he hoped the people's voices would be heard and their protests would result in the overthrow of Mubarak. "We want freedom," he said.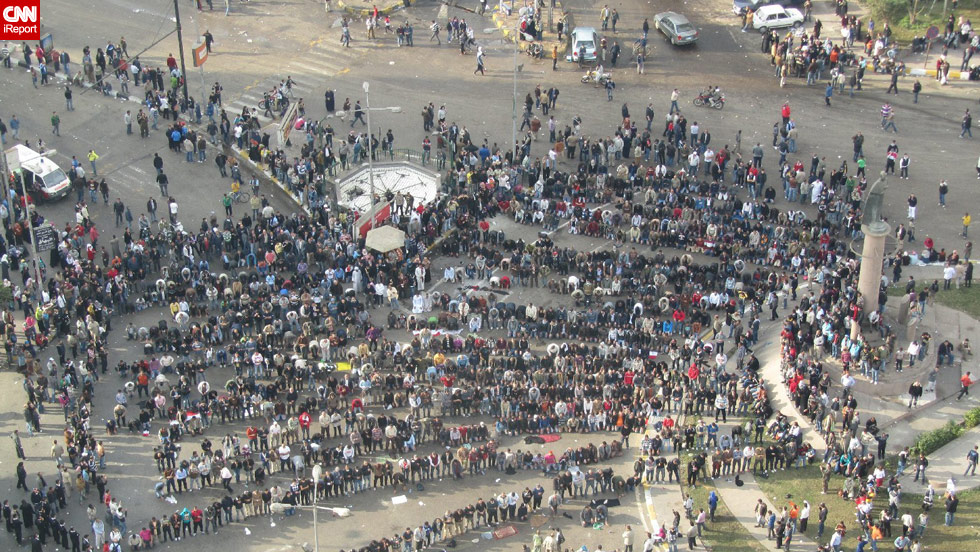 Courtesy Kristian Johansson
Day 4: By Friday, demonstrators were staging massive anti-government protests in Tahrir Square, while police stepped up their presence on the streets. The government cut off mobile phone and internet service in much of the country. Irish tourist Kristian Johansson watched and documented the protests from the 18th floor of his hotel room.
Courtesy Nelly Ali
Nelly Ali marched with others from the Cairo suburb of Maadi to Garden City. She said it was a peaceful demonstration until police attacked the protesters with tear gas and prevented them from entering Tahrir Square. "Mubarak's regime has been acting like a textbook abusive husband for the past 30 years ... making Egyptians believe that if he leaves, everyone is doomed," she said. "It's all manipulative. It's complete corruption."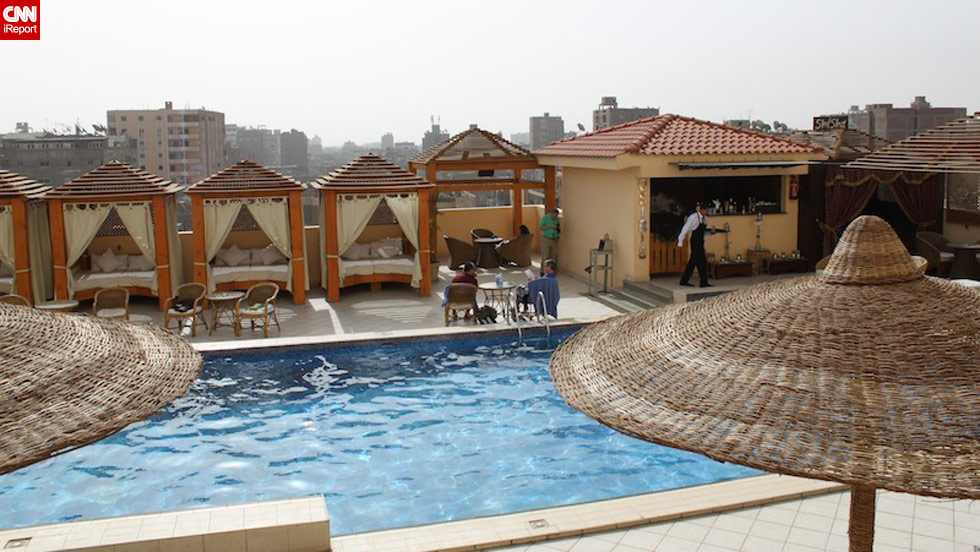 Courtesy Darrell Helyar
Day 5: For many tourists, the protests in Cairo made vacations surreal. Instead of viewing historic sights, they found themselves in the middle of chaos. Darrell Helyar tried to leave Cairo almost as soon as he arrived from Montreal. Hotel employees did their best to make their guests comfortable, standing guard outside the building holding metal pipes while guests lounged at the pool. "It seemed difficult to believe that we were on the roof enjoying our drinks and looking at the pyramids nearby when just in front of the hotel was a completely different world going on."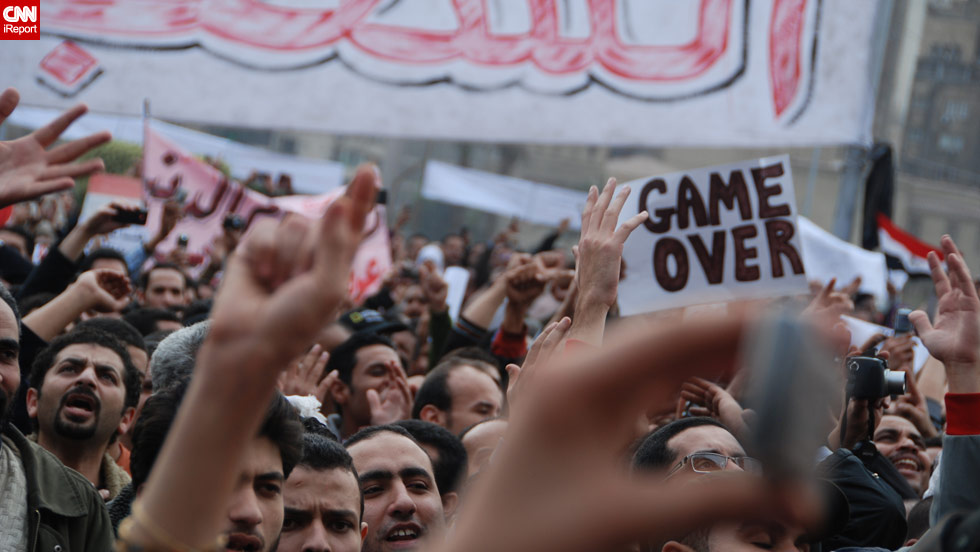 Courtesy Farah Kabbani
Day 8: Anti-government demonstrators stood shoulder-to-shoulder in Tahrir Square for a "march of millions." Farah Kabbani, 25, was in the square for several hours and says the mood was intense: "Everyone is worried about the situation in Cairo and hoping that events won't escalate or get violent. I'm happy that the people in Egypt have finally had the chance to protest and voice their opinion, and I hope that there will be a peaceful resolution that will satisfy all sides."