What's the buzz on ... the Democratic debate?
Each week, CNN.com takes a look at trends in the blogosphere by tracking one topic across gender and generation. This week, we focus on a presidential debate among Democratic hopefuls held June 3 at Saint Anselm College in Goffstown, New Hampshire. The debate was televised by CNN and WMUR-TV, ABC's local affiliate, and moderated by CNN's Wolf Blitzer. (May 30-June 5)
Who won the debate?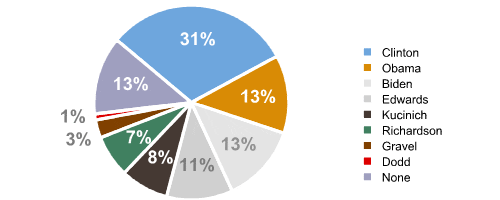 So what does this mean?
Sen. Hillary Clinton came out on top among bloggers who declared a winner of the debate. Sen. Barack Obama, Sen. Joe Biden and the "none" category tied for second place. Analyzing the debate as a whole, roughly half of the bloggers examined made comments classified as neutral. The comments got a neutral rating if the bloggers had mixed emotions about the debate or didn't comment about it, regardless of their candidate preference. Some of those who made negative comments about the debate said Blitzer was a poor moderator, while others said some candidates got more speaking time than others. On the other hand, those with positive comments said it was better than a prior debate in New Hampshire and gave praise for the overall debate format.
In their own words
Mr. M. on Left Field
Just browsing around, Hillary has definitely won the most ink spilled on saying she won the debate award. Truth be told, I personally think she did phenomenally. Now keep in mind, I have been firm in the "Hillary is not electable" camp for some time now, but if that were to ever change, last night was the beginning. She was simply unflappable, sounding presidential on EVERY question that was tossed her way. Considering how heated the debate got, especially during the first hour, it was impressive to see how the senator and former first lady was able to keep a cool head, firm and strong when necessary without crossing over into hysterics.
Uzo Ometu in a comment thread on Blog4Brains
I think Biden won the debate. He was very passionate and said what he thought was right and not what everyone wanted to hear. The conclusion of the debate leaves me with John Edwards out in front because he made an effort to establish himself and differentiate his goals from the other top-tier candidates.
Matt Bondy on The Dominion Pages
As I said before, this was an outstanding debate that favoured substance over soundbytes. The candidates insisted upon addressing nuances in their positions, and this is the sort of thing that the jaded and ill-informed view as weakness. But it's quite the opposite; it represents clarity and thoughtfulness.
Dear A on Open Forum
Overall, the top-tier candidates got the most time talking while the second-tier candidates were struggling to get the time spot. CNN's moderator, Blitzer, was unfair by giving more time for the top three candidates than the rest. However, many bloggers and viewers can agree that they got what they wanted to hear and the candidates were better prepared than the last one with MSNBC.