What's the buzz on ... Apple's iPhone?
Each week, CNN.com takes a look at trends in the blogosphere by tracking one topic across gender and generation with the help of analysis tools from Umbria Inc. This week, we focus on the highly anticipated Apple iPhone, a multimedia device released June 29 after months of intensive marketing. The device has attracted attention from techies and Apple fans alike both for its multimedia capabilities and its design, which some have called revolutionary. The iPhone includes cell phone, camera, Internet access, e-mail, text messaging, Wi-Fi and music player capabilities. Eager buyers lined up in droves to get a taste of the new product, priced at $499 for a 4 GB-capacity phone and $599 for 8 GB.
Overall opinion (June 27 to July 3)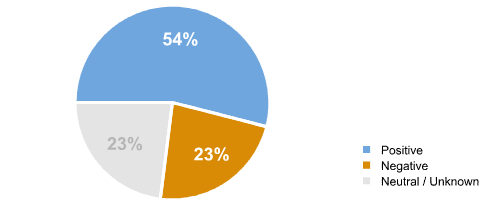 So what does this mean?
Comments on the iPhone were largely positive. More than half wrote in support of the device, and the rest were split evenly between neutral and negative. Many said the device's resolution and design are "gorgeous." The user interface and touch screen got high marks, as well as the "fun" of using the iPhone. Fans said the iPhone beats its smart-phone competitors by far, and they loved the Safari mobile Internet browser. Yet many bloggers also said it was to early to judge a first-generation device, with some saying they would wait to buy the device once the price goes down and the functionality increases. Some bloggers said they were frustrated with Apple's exclusive partnership with AT&T, including its requirement of a new 2-year contract. There were reports of difficult activations, and some said AT&T is a "weak provider." Incompatibility with 3G, Flash, Java applets and third-party applications turned off others. Some found the tiny keyboard frustrating to use. And finally, there were bloggers who deemed $499 to $599 too high a price to pay just to have the newest gadget on the market.
In their own words
John Gruber on Daring Fireball
Overall day one impression: the iPhone is 95 percent amazing, 5 percent maddening. I'm just blown away by how nice it is - very thoughtful UI design and outstanding engineering. It is very fun.
stevenf on ~stevenf
Best phone ever. And given the rest of the industry's generally pervasive cluelessness about pretty much everything, I don't expect it to be surpassed by anything until the iPhone 2. In my opinion, this is a homerun for not just Apple but AT&T who were smart enough to let Steve Jobs have his wicked way with them.
Eric in a comment thread on Coding Horror
We WANT folks to buy that shiny lovely new iPhone so that it's a success, so that the kinks can be worked out, so there will be a 2.0! (Then maybe I'll buy one).
Douglas Kastle in a comment thread on Freedom to Tinker
I think that the iPhone will be the game changer that it has been touted as, but it may not necessarily be the winner (Apple isn't always successful, the newton any one?). If some company comes along with a device that matches the iPhone but doesn't demand a contract lock in, they could charge ahead and gobble up all the people who are interested in the iPhone but are not Mac zealots enough to accept the current situation.