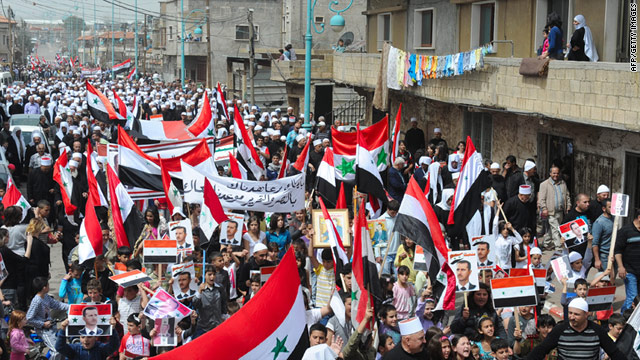 Druze Syrians in the Golan Heights march Saturday in support of President Bashar al-Assad.
The anti-regime demonstrations pulsating across Syria have resulted in a security hunt for snipers and a wave of arrests Saturday.
Syrian security forces are searching for members of an "armed group" that killed "a number of citizens and security forces" in the Damascus suburb of Douma on Friday, the Syrian Arab News Agency reported on Saturday.
SANA cited an unidentified official source as saying that snipers from the group fired at civilians and security forces from rooftops. This is disputed by activists and eyewitnesses who told CNN that government snipers fired shots at unarmed protesters and government forces beat demonstrators.
"Security forces are pursuing the members of the armed group that terrorized the citizens through firing randomly," SANA reported, citing the source who doesn't identify the group in question.
The Syrian Observatory for Human Rights said security forces in the volatile southern city of Daraa and in Homs arrested on Saturday about 20 people who had demonstrated the day before.
Protests on Friday swept through Syria, one of the latest Arab countries to endure grassroots discontent.
At least 10 people, nine of them in Douma, were killed on Friday, according to human rights activists.
Another person was killed in Al Sanameen near Daraa. SANA reported that a girl was killed when the armed group opened fire on civilians in the city of Homs. Read more...
Posted by: IME Producer
Filed under: Protests •Syria