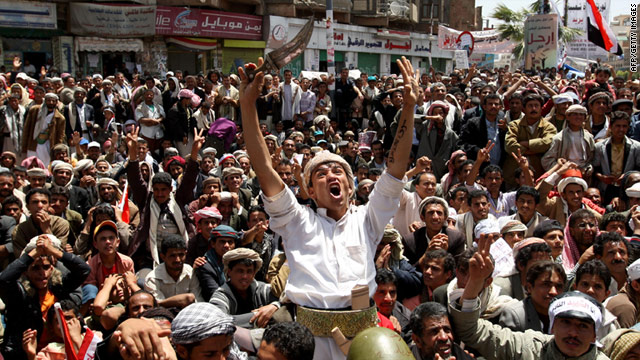 Tens of thousands of Yemeni protesters demonstrated again on Sunday against the government in Sana.
Yemeni President Ali Abdullah Saleh and a top military general are discussing a deal for a peaceful transition of power that would allow Saleh to stay in place for the rest of the year, a Yemeni official and senior U.S. official said Monday.
The discussions come amid cracks in support for Saleh's 32-year rule after weeks of anti-government protests.
Three top generals declared their support for the protests Monday, including Maj. Gen. Ali Mohsen Al-Ahmar, the man now discussing the deal with Saleh.
Al-Ahmar, who belongs to an important tribe whose backing is significant for Saleh, also said he will order his troops to protect civilians demonstrating against the president. Read more...
Posted by: IME Producer
Filed under: Protests •Yemen