February 8, 2011
Posted: 951 GMT
Yemen's prime minister, Ali Mujawar, on Monday defended his government, saying there is no reason Egypt-style protests should take off in the country.
"Yemen is not Tunisia or Egypt," he said. "Yemen has its own different situation... Yemen is a democratic country. Through all the stages, elections took place. And therefore this is a democratic regime."
He accused opposition parties of "trying to duplicate what happened in Tunisia and Egypt, and act as if it should be imposed on the people here in Yemen."
Last Thursday, thousands of anti-government demonstrators gathered near Sanaa University in Yemen's capital. People of all ages chanted and held signs with messages against poverty and the government. Many not only expressed solidarity with the uprisings in Tunisia and Egypt but also demanded that Yemen's president, Ali Abdullah Saleh, who has been in office for 32 years, needed to step down.
While the protests in recent weeks in Yemen have been on a smaller scale than in Tunisia and Egypt, analysts say that Yemeni protesters are seeking many of the same things - particularly a government that they feel represents them and that will provide them with more economic opportunities. Read more...
Posted by: IME Producer
Filed under: Egypt •Video •Yemen
February 7, 2011
Posted: 1243 GMT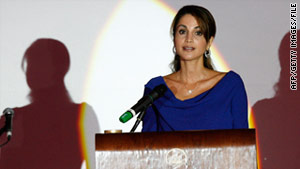 Thirty six members of Jordan's major tribes have attacked what they called the interference of Queen Rania.
In unprecedented criticism of Jordan's royal family, three dozen prominent Jordanian tribal figures issued an urgent call for reform Sunday and warned that the country may follow Tunisia and Egypt into turmoil without it.
The statement from 36 members of the country's major tribes attacked what they called the interference of Queen Rania in running the country. The queen, "her sycophants and the power centers that surround her" are dividing Jordanians and "stealing from the country and the people," the letter states.
The tribal figures said they were sending a clear message to King Abdullah II. They warned that if corruption was not prosecuted and reform was not implemented, "similar events to those in Tunisia and Egypt and other Arab countries will occur." The internet and satellite television had overcome the ability of regimes to stifle the thirst for information, the statement said. Read more...
Posted by: IME Producer
Filed under: Jordan
February 6, 2011
Posted: 957 GMT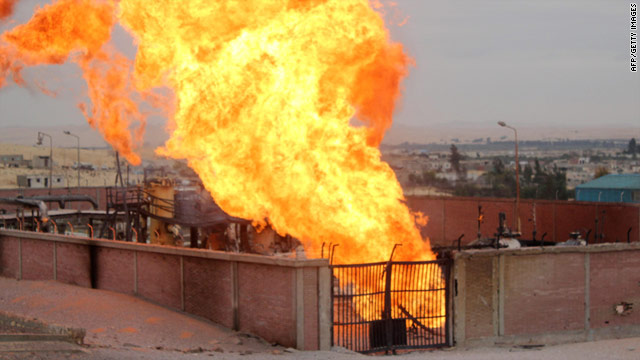 Flames rise from a gas pipeline attack in the Egyptian Sinai town of El Arish on February 5, 2011.
A pipeline that sends natural gas to Jordan was set on fire in the Egyptian Sinai town of El Arish on Saturday, and the suspected act of sabotage has forced its temporary closing, officials said.
Ghaleb Al Maabreh, head of Jordan's national electricity company, confirmed the closing. He said at least one week will be needed to fix it and the cost for the repair will be covered by Jordan.
Al Maabreh said the government will start using alternative sources that will cost it $4.2 million daily. It is able to provide itself with energy sources for the coming three weeks, he added.
Unless the pipe is repaired quickly, it could become a big problem for Jordan, a country already spending heavily in fuel subsidies, a Jordanian senior official said. Read more...
Posted by: IME Producer
Filed under: Egypt •General •Jordan
February 2, 2011
Posted: 952 GMT
February 1, 2011
Posted: 914 GMT
What began as a popular uprising that toppled the Tunisian government before spreading into Algeria, Jordan, Yemen, Sudan and, of course, Egypt, may now be headed for Syria.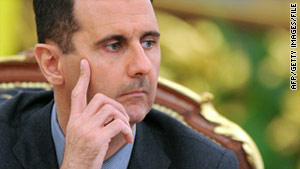 Syrian President Bashar Al-Assad may face mass protests this weekend from opposition groups.
Opposition movements in Syria are calling for mass protests on Saturday against the rule of President Bashar Al-Assad.
The groups are organizing on Facebook, with several pages promoting protests in Damascus, Aleppo and other cities.
Protest organizers want better living standards, human rights improvements and a greater voice for youth, according to the Middle East Media Research Institute, a Washington-based organization that studies and translates news accounts and social-media postings.
It's unclear how many people might join the protests. A few thousand people had expressed their support for the movement on the Facebook pages, some of them undoubtedly from outside the country, the research institute said. Read more...
Posted by: IME Producer
Filed under: Protests •Syria