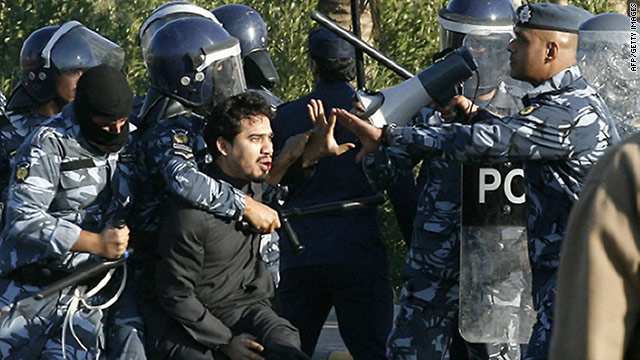 Kuwaiti riot policemen detain a man during clashes Friday between police and stateless Arab protesters in Jahra City.
More than 1,000 protesters clashed with security forces in Kuwait on Friday, demanding greater rights for longtime residents who are not citizens of the country.
The crowd - initially 300 people before quickly growing - was attacked with water cannons.
A Kuwaiti government spokesman later claimed that the security forces were trying to protect themselves after the protesters started hurling rocks.
The "security forces on the ground talked to the protestors in a nice and civilized way," said Col. Adil Al-Hashash, a spokesman for the Interior Ministry. Members of the crowd were told "that they should go to the legal channels for their demands rather than protesting."
Al-Hashash said the demonstration was eventually dispersed and that several protesters were arrested and questioned by the security forces.
The protest took place in Al Jahra province north of Kuwait City, Al-Hashash noted.
Kuwait has been wrestling with the question of rights for non-citizen residents for decades. The country is believed to have roughly 100,000 residents who are not citizens.
Posted by: IME Producer
Filed under: Kuwait •Protests