What began as a popular uprising that toppled the Tunisian government before spreading into Algeria, Jordan, Yemen, Sudan and, of course, Egypt, may now be headed for Syria.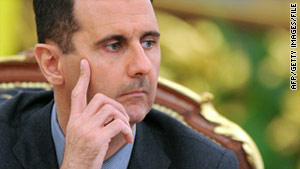 Syrian President Bashar Al-Assad may face mass protests this weekend from opposition groups.
Opposition movements in Syria are calling for mass protests on Saturday against the rule of President Bashar Al-Assad.
The groups are organizing on Facebook, with several pages promoting protests in Damascus, Aleppo and other cities.
Protest organizers want better living standards, human rights improvements and a greater voice for youth, according to the Middle East Media Research Institute, a Washington-based organization that studies and translates news accounts and social-media postings.
It's unclear how many people might join the protests. A few thousand people had expressed their support for the movement on the Facebook pages, some of them undoubtedly from outside the country, the research institute said. Read more...
Posted by: IME Producer
Filed under: Protests •Syria