From Rima Maktabi and Neil Curry, CNN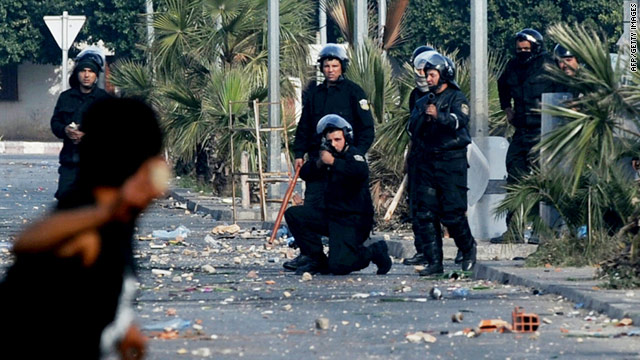 A member of the Tunisian security forces takes aim at a demonstrator on Monday in Regueb.
Tunis, Tunisia (CNN) - As clashes spread Tuesday, a Tunisian workers union called on President Zine el Abidine Ben Ali to order an independent inquiry into the deaths of demonstrators protesting high unemployment and poor living conditions in Tunisia.
Union sources said the death toll had exceeded 50 since mid-December, but Minister of Information Samir Abidi said approximately 21 people were killed during two days of rioting in two Tunisian cities near its border with Algeria. He challenged Arab and international news media who were reporting higher tolls to provide a list of the dead.
The unrest occurred in the cities of Thala and Kasserine, said Abidi. All of the dead were demonstrators; more than 30 police were injured, he said.
State-run television and the information ministry reported that violent clashes between police and demonstrators occurred Tuesday in a suburb of Tunis.
The union Tuesday demanded the release of demonstrators and said it will call a general strike in several southern cities in response to what it calls police brutality. It also condemned acts of vandalism.
Amnesty International said Tuesday - without citing a source - that "scores" have been killed in the protests and at least 23 people died in protests over the weekend.
The organization also said that "scores have reportedly been detained in the protests, with authorities carrying out mass arrests and night raids."
Amnesty called for an investigation into the deaths and for those responsible to be punished.
The demonstrations included demands for the government to improve social services. Tunisia's government called the protesters violent troublemakers. Read more...
Posted by: IME Producer
Filed under: Protests •Tunisia