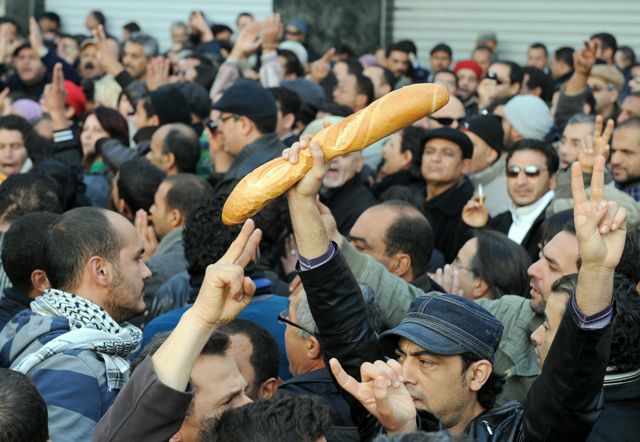 FETHI BELAID/AFP/Getty Images) Tunisians gather to show their solidarity with the residents of Sidi Bouzid during a demonstration in Tunis.
(CNN) – A 26-year-old unemployed man who was beaten by police and then lit himself on fire, helping spark violent demonstrations in Tunisia, has died, the Federation of Human Rights Leagues said Wednesday.
Mohamed Bouazizi died Tuesday in a hospital in Ben Arous, said Arthur Manet, spokesman for the Paris-based group known by its French acronym, FIDH.
Bouazizi was an unemployed college graduate. To earn a living, he started a fruit and vegetable stand. But he did not have a permit, and local police came after him last month, said Khadija Cherif with FIDH. "The police not only confiscated his stand, but they also beat him up," Cherif said.
Bouazizi set himself on fire, attempting suicide. He became a "symbol for all the young college graduates who were unemployed, and Bouazizi was a sort of catalyst for the violent demonstrations which followed in the Sidi Bouzid region," said Cherif. Read more...
Posted by: IME Producer
Filed under: Protests •Tunisia