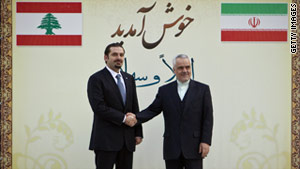 Lebanese Prime Minister Saad Hariri, left, shakes hands with Iran's first vice president, Mohammad Reza Rahimi.
(CNN) - Lebanese Prime Minister Saad Hariri arrived in Iran on Saturday as part of a two-day visit to the country aimed at expanding relations, Iranian state media reported.
It is Hariri's first visit to Iran as prime minister, state-run Press TV said, and the visit comes a month after Iranian President Mahmoud Ahmadinejad traveled to Lebanon on his first state visit to the country.
"We consider this visit to be very important and hope for further expansion of ties between Iran and Lebanon," Iranian Foreign Minister Manouchehr Mottaki said, according to the semi-official Fars News Agency.
During the trip, Hariri is expected to meet with Ahmadinejad, Vice President Mohammad Reza Rahibi, National Security Chairman Saeed Jalili and Parliament Speaker Ali Larijani, Fars reported.
"Lebanon considers cooperation with Iran necessary for creating a common ground to fight the dangers that threaten the two countries and even the region," Press TV quoted Hariri as saying before departing Beirut for the Iranian capital, Tehran.
Posted by: IME Producer
Filed under: Iran •Lebanon