From Michal Zippori, CNN
Jerusalem (CNN) - Four Israelis - including a pregnant woman - were killed Tuesday near Hebron in the West Bank in a shooting for which the militant wing of Hamas claimed responsibility, officials said.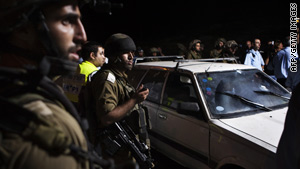 Israeli soldiers inspect a settlers' car after it was ambushed by Palestinian gunmen in the southern West Bank Tuesday.
The incident occurred near Bani Naim junction, the largely Palestinian territory where Jews have settled in places like Hebron, Israel Defense Forces spokeswoman Lt. Col. Avital Leibowitz said. The victims were in a car on Route 60, the IDF website said.
Guy Gonen, a paramedic who was one of the first people on the scene, said the car was sprayed with bullets.
More than a dozen bullet holes were found in the left side of the white Subaru station wagon in which they were driving.
The attack comes ahead of direct talks scheduled to begin Thursday in Washington between Israeli and Palestinian leaders - the first such talks since 2008. Read full article on CNN.com
Posted by: IME Producer
Filed under: General •Israel •West Bank