From Inside the Middle East's January show.
By George Webster for CNN
London, England (CNN) - As a man whose vision of paradise is "some sort of library," Ismail Serageldin must sometimes feel like he works amid the Garden of Eden.
The former World Bank vice-president is director of the Bibliotheca Alexandrina (BA) - Egypt's $220 million reimagining of the ancient world's most celebrated library, built on its historical site in the city of Alexandria.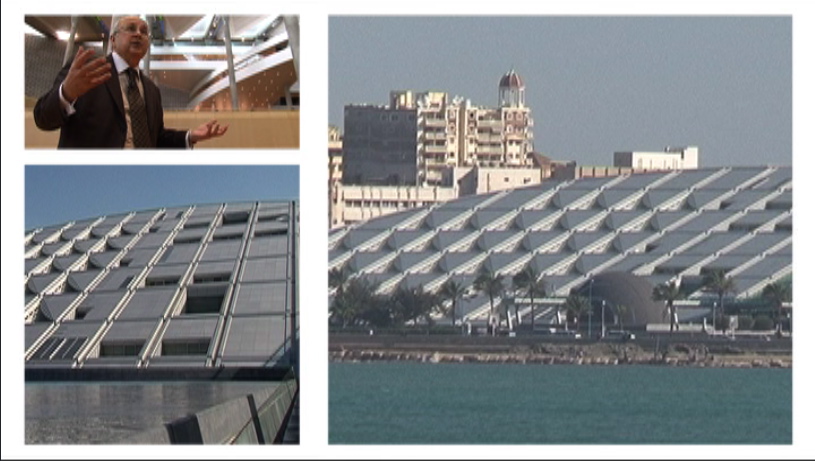 Exteriors of the new Biblioteca Alexandrina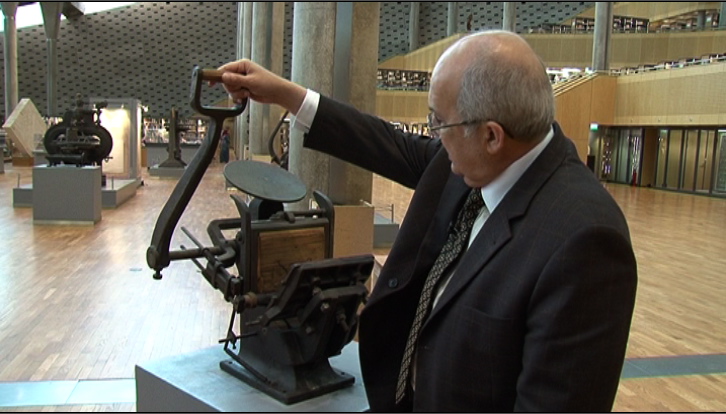 Head of the library Ismail Serageldin shows off one of the BA's treasures – a hand-operated printer from 1825.
The 66-year-old Egyptian - who has authored more than 50 books on a variety of topics including biotechnology, rural development and sustainability - has become the first person in over 1,600 years to be officially named "Librarian of Alexandria."
The original Library of Alexandria, founded in 288 B.C., housed hundreds of thousands of scrolls by some of the greatest thinkers and writers of the ancient world. Drawn by this center of knowledge, scientists, mathematicians and poets from all cultures gravitated to Alexandria to study and exchange ideas.
But in 48 A.D. many of the ancient library's treasures were irrevocably lost after an accidental fire, and after falling into a gradual decline the once-famed library completely disappeared around 1,600 years ago, according to according to Biblioteca Alexandrina's Web site.
Despite the the library's commemorative reference to the past and the antiquated grandeur of Serageldin's title, Alexandria's library is unmistakably modern.
Standing in the library's main reading room - the largest in the world, covering 70,000 square meters over eleven cascading levels - Serageldin emphasizes the symbolic connection between the design of the library and its purpose as an institute of learning.
"This is an incredible space," he told CNN. "It is a space where the unity of knowledge is reflected in the cascading levels of the library, in the soaring columns, in the gentle natural light that comes in ... in the intermingling of the art and the science exhibits."
And the exhibits are many: From an ancient Greek bust of Socrates, to an elaborately inscribed Islamic lantern, Serageldin is keen to show off his library's rich and colorful treasures.
Serageldin's favorite artifacts relate, unsurprisingly, to the first printing press transported to Egypt: "From such modest beginnings, knowledge exploded, newspapers appeared, modern debate took place, translation movement occurred, and all of the modernization of Egypt started."
What's left of these ancient presses are on display including the oldest existing moveable letters in Arabic, the first page of the official journal where modern laws were first codified and a primitive machine for rolling prints one page at a time.
While Alexandria's past continues to be important, Serageldin is aware that he must also be at the cutting edge of the Library's digital future.
"The ancient library tried to have all the written books in the world," he explained. "Well, we have the digital memory of humanity by maintaining a complete copy of the Internet archive. And sooner or later other books will migrate to digital form." The Internet archive is stored copies of Web pages , taken at various points in time
Our mandate, our hope is to be able to provide all knowledge to all people at all times for free.
Serageldin points out the extent of the library's other digital resources - such as its Virtual Reality Environment, an immersive system that allows researchers to transform two-dimensional data sets into 3-D simulations - and to step inside them.
"We are one of the most advanced digital libraries in the world," he argues. "Both in terms of digitization of new material as well as developing advanced techniques for informatics for the 21st century."
When he turns to the issue of political and religious censorship, Serageldin's opinions are unambiguous: "I do not believe there is any justification for limiting access to knowledge."
The tri-lingual recipient of over 20 honorary doctorates relates how, when the library first opened in 2002, there was an expectation that he would ban books like Salman Rushdie's "The Satanic Verses," which was the topic of some controversy in 1989.
At the time, Ayatollah Ruhollah Khomeini - then Iran's spiritual leader - issued a fatwa calling for the death of Rushdie. The novel was considered blasphemous by some Muslims because of its fictional treatment of Mohammed.
"Western media people would ask me about censorship and so on. They asked me 'Can you possibly consider having "The Satanic Verses?"' Serageldin told CNN. "To which my answer was, 'Not only would I consider it, but I do have it, and it's in our catalogue and you can go and look it up.'"
As far as Serageldin is concerned, no subject is off limits: "We have books by Israeli authors, books about Israel, books about Zionism, books against the regime in Egypt. We have books that are frankly atheistic and aggressively so - Dawkins and Hitchins and so on - we have books that not just Muslims find offensive but that some other religions find offensive as well."
It is in this spirit of openness and tolerance that Ismail Serageldin finally casts his vision for the future of the Bibliotheca Alexandrina.
"Our mandate, our hope is to be able to provide all knowledge to all people at all times for free."
Filed under: Archaeology •Culture •Egypt