Sanaa, Yemen (CNN) - A terror suspect in the attempted bombing of a U.S. jetliner was radicalized in Britain, but did meet with a radical Muslim Cleric in Yemen, a top government official said Thursday.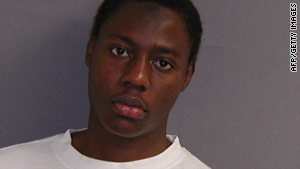 Umar Farouk AbdulMutallab has now been charged on six counts by a U.S. Grand Jury
The meeting between Umar Farouk AbdulMutallab and cleric Anwar al-Awlaki took place in Shabwa, about 290 kilometers (180 miles) southeast of the capital, Sanaa, according to Yemen's Deputy Prime Minister for Defense and Security Rashad Al-Alemi.
No other details about the encounter were immediately available.
U.S. intelligence officials have been evaluating whether al-Awlaki played a role in the botched attempt to blow up a Northwest Airlines passenger jet en route from Amsterdam, Netherlands to Detroit, Michigan on Christmas Day.
The attempt to ignite explosives hidden in AbdulMutallab's underwear failed to bring down the plane.
A federal grand jury indicted AbdulMutallab Wednesday on six counts, including an attempt to murder the other 289 people aboard.
If convicted, the 23-year-old Nigerian national faces a sentence of life in prison. Read full article
Filed under: Christmas •CNN Coverage •U.S. •Yemen