From CNN Correspondent Paula Newton,
Special to In The Field Blog on CNN.com
Looking back at my first impression of Nujood Ali and her incredible act of defiance, I was very naive.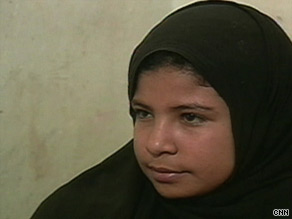 Nujood Ali rebelled against culture, religion and government.
Like Nujood herself, I thought the mere act of demanding a divorce and getting one would 'fix' her life and allow her to return and remain in the embrace of her family.
The complexity of Nujood's life is quite daunting to fathom now. At the age of 10, she defied her husband, his family and crucially, her own family to divorce her husband and return to the innocent life she so missed.
But after following Nujood's story for more than a year now, it is far from a simple portrait of victory and triumph.
The key to Nujood's life now is that she lives very much like an outcast in her community. The fame and the media attention have made her a choice topic for gossiping neighbors.
The fact is, some in Yemen see nothing wrong with marrying off a 10-year-old girl. And so what she did, and the notoriety that followed, was seen by some as a threat to how things are and how they should stay.
While we in the Western media celebrated Nujood's courage, some in her own extended family questioned her rebellious act.
Nujood has said that her father, her brothers and her uncles have all expressed their displeasure at having her story exposed and publicized.
So where does all this leave Nujood now? I'm not quite sure. CNN producer Schams Elwazer has followed Nujood's story now for months.
In repeated calls to concerned human rights campaigners, lawyers, the judge involved in the case and government officials there has been precious little clarity about Nujood's future.
Apparently, there is some type of a scholarship fund set up for education, but Nujood's school attendance has been sporadic in part because, her attorney says, her family has not supported her education whole-heartedly.
It's clear Nujood and her family believed being famous would earn them a fortune. It hasn't. Some have said to me that Nujood has been victimized twice by her family.
First, Nujood was forced into an early marriage she did not want and later into a publicity frenzy that her family believed would make them thousands of dollars.
Whatever the truth, Nujood has been hurt and very little in her life has changed for the better.
This has been a difficult but important story to tell for all these months. Verifying the facts of what happened to Nujood has been daunting but it has been insightful.
At its core, though, this is a real and gritty story about what it means to rebel against cultures, religion and government.
Nujood is very confused and angry and is far from living out the childhood all young girls deserve.
Posted by: IME Producer
Filed under: Human Rights •Yemen