(CNN) - Three women who were seized along with six other foreign workers in Yemen have been killed, Yemeni government officials said Monday.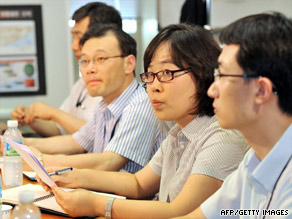 South Korean officials discuss the kidnappings Monday. A South Korean woman reportedly was killed.
"It is with profound sorrow that the Yemeni government reports finding three bodies," according to a statement from Mohammed Albasha, a spokesman for Yemen's Embassy in the United States.
The statement said the dead were identified as a South Korean teacher and two German nurses in training, all in their 20s. They were found in the Noshour Valley in Safrah district in the province of Saada.
The women were abducted Sunday along with five other Germans, including three children, and a Briton, according to Yemen's state-run SABA news agency. Earlier, the Yemen Post said seven of the nine hostages were killed, citing the country's interior ministry.
But SABA reported later Monday the remaining six were believed to be alive, and security forces were searching for them... Read full story
Filed under: Yemen