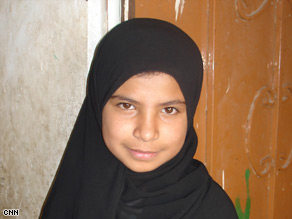 Nujood Ali, the first Yemeni child bride to fight for and obtain a divorce.
Yemen's parliament has just passed a law setting a minimum marriage age of 17 following months of controversy and international publicity over the issue of child brides.
You may remember Paula Newton's report on Inside the Middle East introducing us to  10-year-old Nujood Ali, the first Yemeni child bride to seek and obtain a divorce.
Nujood's impoverished parents married her to a man three times her age. When she told her parents that her husband beat her and forced her to have sex and that she wanted out of the marriage, they refused to help. Nujood then made her own way to the courthouse to seek a divorce.
Within days of that court appearance, Nujood's story and the plight of child brides in Yemen made international headlines.  Publicity surrounding her case prompted calls to raise the country's legal age, and opened the door for several more child brides to come forward, including 9-year-old Arwa and 13-year-old Reem.
See Paula's blog entry from July 15, 2008
Posted by: IME Producer
Filed under: Yemen