'I knew it was over with'
One search comes to an end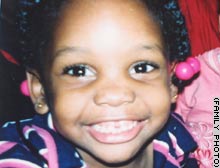 Shenae Green
By Christy Oglesby
CNN
(CNN) -- Early this week, Deanna Thomas got the phone call she needed but never wanted. Morgue officials had the corpse of her 3-year-old daughter, Shenae Green.
It had been 54 days since the tiny girl fell off a New Orleans rooftop into a savagely swift flood in the hours before Hurricane Katrina made landfall.
For nearly two months, Deanna Thomas has wondered where her second daughter's body was. Now she knows. The child's paternal grandfather, Robert Green, had been on a quest to find the bodies of Shenae and his mother, Joyce Green, who also died that night.
Sunday, Green told Thomas that part of the search had ended.
"When he told me, I just hung up," Thomas said. "I knew it was over with."
That time, she remained conscious after receiving the news. But it was different when Thomas' sister told her about Shenae's death.
Thomas' three little girls were with their grandfather on Tennessee Street in the Lower 9th Ward when Katrina struck. He was the regular babysitter while the toddlers' parents worked, and the girls were going to evacuate to Tennessee with him so they could visit with the relatives of their father, Everidge Green.
But traffic forced the family back to grandpa's house. As they slept, a barge in the Intracoastal Canal broke the levee three blocks from their house on August 29, Robert Green said. The rapid-rising flood ripped houses in the neighborhood from their moorings just after 4 a.m., sending them swirling through streets and breaking apart as they crashed into other houses and the large oaks that line the street.
Green, and his brother, Jonathan, scrambled to move all their young, frail and disabled charges from one disintegrating rooftop to another. As the two dragged their partially-paralyzed 73-year-old mother, three granddaughters and a mentally delayed 51-year-old cousin from housetop to housetop, Shenae fell into the flood and never resurfaced.
Joyce Green fell several times also, and after the third plunge her sons managed to resuscitate her. But she died as the family rode out Katrina for eight hours on a roof, and the family had to leave her body behind when rescuers came.
The family, including Shenae's sisters -- Sheniya, 4, and Shemiya, 2, -- eventually wound up in the Louisiana Superdome, where one of Thomas' sisters found them.
"She called me and she said, 'I have your children, but I only have two of them.' Then she told me what happened. I passed out," said Thomas, 23.
She thinks often of her tiny daughter who she said was always smiling. Shenae loved Dora the Explorer, chicken nuggets and singing Ring Around the Rosy with her sisters, Thomas said, and she still sees her apple-cheeked face.
"All three of them look just alike. When I look at my other two, I see her," Thomas said softly. "They were all dressed alike every day, -- (sizes) 2T, 3T and 4T. When I'm in the store shopping, I have to catch myself because I'm still grabbing 3T clothes."
"Her sisters asks for her every day. They remember what happened," Thomas said. "Shemiya, I guess because she is so young, all she says is NaeNae went in the water."
"The 4-year-old says, 'NaeNae is in heaven.' Then she asks when is she coming back."
The family, which doesn't know when or where recovery workers found Shenae's body, hasn't made funeral plans yet, Robert Green said. But the identification of Shenae has given them hope that maybe morgue workers will locate Joyce Green's remains too, and maybe the family could bury the baby with her great-grandmother.
Thomas can't begin planning a burial yet, she said, because Katrina scattered her family across the country, and there are still relatives that she can't locate.
Meanwhile, Thomas is trying to start a new life in Houston, Texas, with her children. She used to be a manager at McDonald's she said, and each day after the girls go to daycare she looks for a job.
Sheniya is slowly recovering too. She fell into the flood during the dark morning hours that Shenae died, but she managed to hold onto a floating truck until her grandfather could reach her.
"When I first got them back, Sheniya would not get in any water. She would take a bath standing outside the tub," Thomas said. "Now she'll take a bath as long as all the lights are on and the door is open. She doesn't want any closed doors."
But for Sheniya, Thomas said, there are also setbacks.
"When I bought them their beds, she said, 'Momma, why didn't you buy NaeNae a bed? She's coming back,' "Thomas recounted. "Maybe when we give her a funeral, she'll really see that she's not coming back."