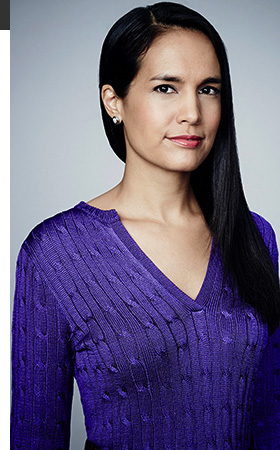 Kristie Lu Stout
Kristie Lu Stout is an award-winning anchor/correspondent for CNN International. She is the host of the daily news program 'News Stream' and CNN's monthly show 'On China'. She is also a regular host and contributor for CNN's 'Leading Women' series.
Stout has reported on the world's major news stories and the people behind those stories for over a decade. She has interviewed high-profile newsmakers ranging from Myanmar pro-democracy icon Aung San Suu Kyi to global pop superstar Lady Gaga, from powerhouse philanthropist Melinda Gates to Chinese activist/artist Ai Weiwei.
Based out of Hong Kong, Stout keeps a particular focus on how developments in China are dramatically changing the world for all of us. From anchoring CNN's groundbreaking "Eye on China" series in 2004 to CNN's "Countdown Beijing" ahead of the 2008 Olympics, Stout has remained committed to reporting on the country. Stout was also instrumental in launching "On China," CNN's first ever regular series focused on the country -- a first by any international TV news network.
Stout believes in engaging her viewers and makes social media an integral part of her reporting. She also believes in contributing to the debate with viewers off-camera with regular speaking and moderating appearances around the world. She has addressed students from Peking University and Hong Kong University to the Stanford Graduate School of Business. She regularly moderates at leading conferences around the world, such as the Fortune Global Forum, and is well known for her style in stimulating frank and lively question-and-answer sessions.
Stout started her career in journalism in San Francisco at Wired magazine's online division. She has written on technology for various media publications including the South China Morning Post, where she founded and wrote the "Beijing Byte" column. Before her career in journalism, she was an early employee at Beijing-based Internet site Sohu.com and worked for Reuters' new media team in China.
Stout is American of Chinese and European descent. She holds a bachelor's and a master's degree from Stanford University, and studied advanced Mandarin Chinese at Beijing's Tsinghua University.
Follow her at:
Kristie Lu Stout is also a regular columnist on CNN.com.