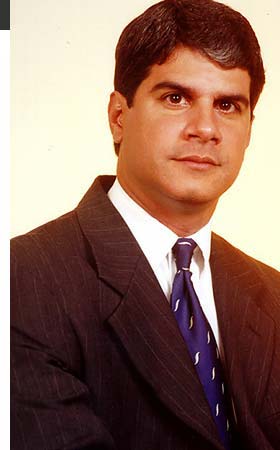 Rey Rodriguez
Rey Rodriguez is a correspondent for CNN en Español in Mexico and covers national events for the pan-regional network and for Noticias Mexico, the network's first primetime Mexico-specific newscast.
Before joining CNN en Español as a correspondent in June 2000, Rodriguez freelanced as a reporter for the 24-hour network since its launch in 1997. He has covered key events including Pope John Paul II's visit to Mexico in 1999 and the presidential election that ended the 71-year rule of the Institutional Revolutionary Party (PRI). He also reported from Panama on the United States' historic handover of the Canal.
Rodriguez has interviewed many Latin American presidents and leaders, among them are Ernesto Zedillo, Julio Marma Sanguineti, Carlos Menem, Ernesto Pirez Balladares, Juan Carlos Cardoso, Violeta Chamorro, Daniel Ortega, Fidel Castro y Carlos Reina.
Born in Havana, Cuba, Rodriguez studied International Relations for five years at the Habana and has a degree in Communications. He speaks English, Spanish, French and Russian.