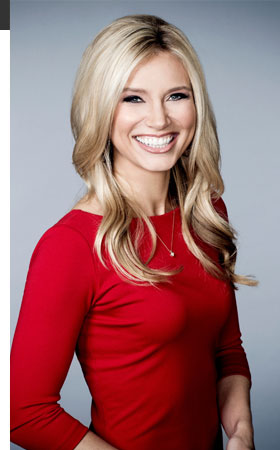 Indra Petersons
Indra Petersons is a weather anchor and meteorologist on CNN's "New Day". You'll also find her throughout CNN's programs reporting on how science impacts the earth ranging from earthquakes to asteroids as well as covering the latest news from explanations of dangerous air turbulence to a focus on how ocean currents and depth affect the search for flight MH370. She is based in New York City.
Indra holds a Bachelor of Science in Atmospheric Physics as well as minors in math, physics and business. She is a Certified Broadcast Meteorologist, a distinguished designation by the American Meteorological Society. Meteorologists with this seal have passed a written exam testing their understanding of weather and forecasting. Their on-air work is also reviewed by a team of AMS experts who rate their ability to communicate critical weather information to their audience. Additionally, she is a professional member of the American Meteorological Society (AMS) and the National Weather Association (NWA).
In a major weather event, you'll find Indra reporting in the elements for CNN domestic as well as CNN Worldwide. She broadcasts during extreme weather conditions ranging from the dangerous cold to extreme heat. Petersons also covers severe weather on the front-lines; including tornadoes, hurricanes and flooding.
Prior to CNN, Indra was a meteorologist and weather producer at KABC in Los Angeles. In addition to covering weather, Indra was also an environmental and general assignment reporter, her stories featured on "ABC World News Tonight" and "Good Morning America". Previous stations include KEYT in Santa Barbara, CA and KVIA in El Paso, Texas.
In 2011, Petersons was voted by the public as the city's best meteorologist on the Los Angeles Hotlist. In 2014, Indra was recognized by The Alliance for Women in Media as a STEM Leadership in Media award honoree. The prestigious Women with Solutions Award honors women who's impact in media creates and promotes careers in science, technology, engineering and math through their education, leadership and content creation.
In her free time, you can find her chasing storms in tornado alley and traveling around the world. Indra has already gone diving with great white sharks in Africa and sandboarding on the dunes of Peru. Indra has explored the deep Amazon, celebrated Holi in the streets of Delhi, India, and rode camelback in the deserts of Jordan -- to name a few.