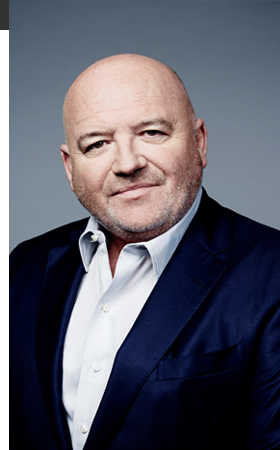 Tony Maddox
Tony Maddox is executive vice president and managing director of CNN International, which reaches more than 286 million households and hotel rooms worldwide. Based at CNN's Atlanta headquarters, he is responsible for an international news and information portfolio that includes five CNN services in English; CNN en Español; the joint ventures CNN-IBN, CNN Turk, CNN Chile and forthcoming CNN Philippines and CNN Indonesia, as well as international newsgathering, editorial and programming oversight.
Under Maddox's leadership, CNN has recently received a number of prestigious awards including the Royal Television Society's (RTS) News Channel of the Year (2013 and 2014) in addition to a George Foster Peabody Award, an Emmy Award, three Edward R. Murrow Awards, 'Cable & Satellite Channel of the Year' at 2013 Asian Television Awards and the Overseas Press Club's David Kaplan Award for the network's coverage of Syria.
Maddox has led CNN's coverage of key events including the ongoing civil war in Syria; the downing of Malaysia Airlines Flight 17 over Ukraine, which won a 2014 Association of International Broadcasting Award for 'Live Television Journalism'; the search for Malaysia Airlines Flight 370; Typhoon Haiyan in the Philippines, which won Best News Coverage – International at RTS 2014; the Arab Spring; the powerful earthquake and tsunami that struck Japan in March 2011; CNN's award-winning coverage of the devastating earthquake in Haiti in January 2010; the 8.8-magnitude earthquake that rocked central Chile in February 2010; the fallout from Iran's presidential election in June 2009; the wars in Iraq and Afghanistan; the conflict between Israel and Lebanon in 2006; the death of Pope John Paul II; and the tsunami disaster in South Asia.
In March 2011 Maddox spearheaded the launch of "The CNN Freedom Project: Ending Modern-Day Slavery", an award-winning, multi-platform initiative that aims to expose the horrors of modern-day slavery, and to push for change.
Maddox also orchestrated the ambitious Content Ownership Strategy in 2007, which outlined plans to significantly increase the number of correspondents and editorial operations worldwide.
Since then CNN has strategically increased the number of editorial operations around the world, placing new operations in Sao Paulo, Brazil; Kabul, Afghanistan; Lagos, Nigeria; Nairobi, Kenya; Mumbai, India; and Abu Dhabi, United Arab Emirates. In addition, International Newsource has more than doubled its staff to better serve all of CNN's international affiliates around the clock.
Maddox has also directed the repositioning of CNN International with the development of new programming and launched a new evening primetime schedule in both Europe and Asia.
Before he was named to his current position, Maddox served as senior vice president of international newsgathering for the network. Appointed to that post in October 2003, Maddox had operational and administrative oversight over all of CNN's international bureaus, production centers, staff and resources.
Previously Maddox was CNN International's senior vice president for Europe, the Middle East and Africa (EMEA), based in London. He was responsible for all newsgathering and programming from CNN London, as well as the 15 other bureaus in the EMEA region.
Maddox joined CNN International in 1998 as managing editor for EMEA and was promoted to vice president in 2000.
Before joining CNN, Maddox was head of news and current affairs for the BBC in Northern Ireland where he managed the radio and television staff; was responsible for all the local BBC news output; and was the corporation's key point of reference on editorial matters in Northern Ireland.
He came to Belfast from the BBC in Plymouth where he was the editor of news and current affairs for the South West of England, running the nightly news program and documentary strand.
In thirteen years with the BBC, Maddox was a reporter, news producer, news editor, and ran one of the first teams of local bi-media correspondents in Leeds.