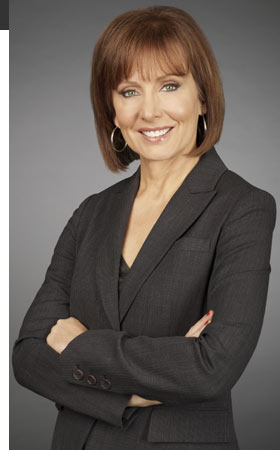 Susan Lisovicz
Susan Lisovicz is CNN's primary correspondent on the stock market. Lisovicz is most frequently seen from the New York Stock Exchange (NYSE), where she has covered the fallout from the worst financial crisis and housing recession since the Great Depression. She also reports for CNN International, HLN and CNN Radio on the latest market and business news.
Lisovicz has interviewed many of corporate America's most influential executives, including Bill Gates, Warren Buffett, Jack Welch, Barry Diller and Sumner Redstone. She was live on the air when President George W. Bush made a surprise visit to the NYSE and was the only reporter to get an on-air comment. Her live coverage of the stock market's steep drop in February resulted in her picture on BusinessWeek's cover titled, "What the Market is Telling Us."
Lisovicz also reports in the field on breaking general assignment stories. Those stories include the Sept. 11, 2001 attacks, the death of Pope John Paul II and Hurricane Katrina. Lisovicz has also anchored several specials on CNN, including the Top 25 most influential executives over the last 25 years.
Prior to CNN, Lisovicz was a correspondent and anchor at CNBC, where her assignments included the 1993 World Trade Center bombing and several of the most important media mergers in history, including Disney's acquisition of ABC and Westinghouse's purchase of CBS. Her overseas reporting included a series on the end of apartheid in South Africa and a series she produced as well as reported on the handover of the Panama Canal.
Additionally, Lisovicz has worked as an anchor for Headline News and traveled all over the country as a general assignment correspondent for CNN. Assignments included the Democratic and Republican political conventions, live coverage of Hurricane Gilbert from Galveston, Texas, and deadly brush fires in Southern California. She has also written for WABC-TV in New York, Prodigy and the Associated Press.
She is a former president of the New York Financial Writers' Association and has served on its board of governors. Lisovicz was named as a Jefferson Fellow for the spring of 2001 and studied in China, Japan and Vietnam. She took unpaid leave to do volunteer work at a hospital in Bangladesh, and she spends a week a year as a volunteer at Hole in the Wall Gang Camp, a camp for children with life-threatening health issues.
Lisovicz studied at Trinity and All Saints College in England and earned a degree in communications from William Paterson University, where she received the President's Medal in 1999.