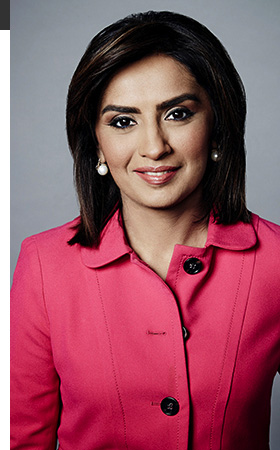 Mallika Kapur
Mallika Kapur is CNN's Mumbai-based international correspondent and is responsible for the network's coverage from India's financial capital and South Asia.
She has reported extensively on a wide range of key political, economic, social and environmental stories from the region. These include the brutal gang-rape in New Delhi in December 2012 and its aftermath including the widespread social impact and movement against gender violence throughout the country. She has also reported recently on the explosions and deadly fire on board the Indian naval submarine INS Sindhurakshak and the tragic death of school children in the East Indian state of Bihar after consuming food under the midday-meal scheme at Government schools.
Kapur has covered a number of leading economic stories for the network including the decline in the value of the rupee, the emergence of India as a leader in innovation and an as an auto manufacturing hub. She has reported extensively on the Indian financial market, as part of the network's coverage of the global financial meltdown and is a regular contributor to Global Exchange, CNN's flagship business show dedicated to emerging markets. She has interviewed prominent business leaders including Starbucks CEO Howard Shultz and ICICI Bank MD and CEO, Chanda Kochhar. Kapur has also worked as an anchor on shows from the network's London and Hong Kong bureaus and reported extensively from the London Stock Exchange.
She contributes stories to CNN's Freedom Project which continues to expose human trafficking and modern day slavery in countries worldwide. She led the documentary 'Trapped by Tradition' which shone a light on the appalling tradition under which many young girls and women in the Bharatpur district of North India were sold into sexual slavery by their own family members. The documentary was awarded the Gold Medal at the prestigious New York Festivals International Film and TV Awards 2012. She has also reported extensively on bonded labor in the brick kilns of Southern India including the rescue and rehabilitation efforts for freed bonded laborers.
Kapur contributes regularly to CNN feature shows including 'CNN Business Traveller'. Her other assignments have included the Commonwealth Games in India, the Anna Hazare led anti-corruption protests held throughout the country in 2011 and the visit of President Barack Obama to India. She has reported on the Mumbai terrorist attacks, the subsequent investigation and India-Pakistan dialogue addressing terrorism. In 2004, she reported on the aftermath of the Asian Tsunami from the remote Andaman and Nicobar Islands in India.
Kapur has been reporting for CNN since 2002. Before joining the network, she worked for CNBC in New York and Singapore.
Kapur is Indian and was born in Calcutta. She graduated with a BA (Honors) in International Relations from Brown University, USA, and went on to do a Masters in Broadcast Journalism at Columbia University's Graduate School of Journalism in New York. Her journalistic career began with an internship at The Statesman newspaper in Calcutta, India.