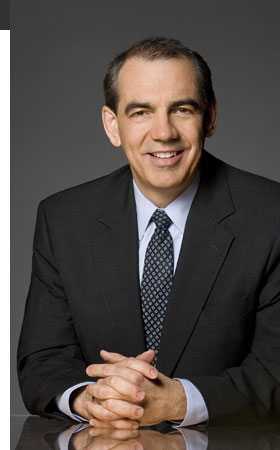 Ken Jautz
Ken Jautz is executive vice president of CNN, responsible for CNN/U.S. He is based in New York.
Since taking over as executive vice president of CNN/U.S. in September 2010, Jautz has revamped the prime time schedule, increased the amount of international news on the network, and enhanced the network's commitment to documentaries. The network has also commissioned non-fiction series from outside producers for the first time. Under Jaut'z tenure, the network received critical acclaim for its commitment to international reporting, including Peabody and Emmy awards for coverage of the Arab spring.
Jautz has managed several networks for CNN and Turner Broadcasting in both Europe and the United States, including HLN, CNNfn, and n-tv, a German national news channel.
At HLN, Jautz revamped and re-branded the network formally known as CNN Headline News and created a prime time line-up of talk shows that together constituted the biggest change in format at any TV network in the CNN group. Under Jautz's leadership, HLN posted record ratings with the programming overhaul, which included the launch of Nancy Grace, Joy Behar, ShowBiz Tonight, Issues with Jane Velez Mitchell and Morning Express with Robin Meade.
Previously Jautz served as executive vice president of CNN's business news operations, responsible for the launch of the CNNMoney website, the CNNfn network, and all business programming on CNN/U.S., including several award-winning weekday and weekend business programs.
Jautz served as managing director of n-tv, a German news and television company partly owned by Time Warner, which operated the first all news television network in Germany.
He also worked as a London-based business development executive at Turner Broadcasting Europe, helping launch news channels and programs in several European markets
Jautz was a local newspaper reporter before becoming a foreign correspondent for the Associated Press. He later became CNN's bureau chief in Germany. Among the stories Jautz covered for the network were the fall of the Berlin Wall and the subsequent revolutions in East European countries; the 1991 Gulf War; the dissolution of the Soviet Union; and the break-up of Yugoslavia and resulting Balkan conflicts.
Jautz is a graduate of Cornell University and the Columbia University Graduate School of Journalism.