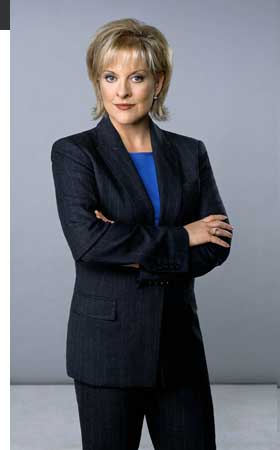 Nancy Grace
An outspoken, tireless advocate for victims' rights and one of television's most respected legal analysts, Nancy Grace is the powerful force behind Headline News' (HLN) top-rated Nancy Grace.
A former prosecutor with an unparalleled record of success, she has appeared on The Oprah Winfrey Show, The View, The Today Show, Good Morning America, Dr. Phil and Larry King Live, among others, dispensing her firebrand take on the modern justice system.
Grace's first book, Objection!, was published in 2005 and became an instant New York Times bestseller. Her two subsequent novels, The Eleventh Victim (2009) and Death on the D-List (2010), were also New York Times bestsellers, and a television movie adaptation of The Eleventh Victim is currently in development. Grace is an executive producer on the film project.
She is the recipient of several American Women in Radio & Television "Gracie Awards" for her Nancy Grace Investigates primetime report on Court TV and has been awarded the "Individual Achievement/Best Program Host" honor. Grace has also been widely recognized by many notable organizations (including the Carole Sund/Carrington Foundation, Crime Victims United of California and The Retreat) for her advocacy work on behalf of victims' rights.
Grace's life changed forever in 1979 when her then-fiancé, Keith Griffin, was shot and killed. In the aftermath of that crime, Nancy abandoned plans to become an English professor and turned her focus to criminal justice. She became a Law Review graduate of Mercer Law School and received her degree in constitutional and criminal law from New York University. Additionally, she donated her time to help staff the hotline at an Atlanta battered women's center for over 10 years.
Nancy Grace initially came to television from the Atlanta Fulton County District Attorney's Office, where she served more than a decade as a special prosecutor of felony cases involving murder, rape, child molestation and arson. Known for her authentic sensibility and for not holding back her opinion on high-profile cases, she was tapped to host Court TV's live daily trial coverage program, Closing Arguments, and later to co-host Cochran and Grace. She also presided over the daytime hit Swift Justice with Nancy Grace, for which she received an Emmy Award nomination.
2007 saw Grace's marriage to long-time sweetheart, David. In a recent interview she said, "After I lost my fiancé, it seemed like it would be better to always be alone than to risk being hurt again. I thought God had closed that door and given me my career instead. But then someone came into my life, and I realized: this is worth the risk."
Another life milestone followed – the birth of twins John David and Lucy. "These babies are my miracles," she says.
Now, everything important in Grace's life – including her unwavering crusade for true justice – comes back to family. Since her marriage and the birth of her children, Nancy says, "I feel even more passionate about fighting for victims."
Nancy Grace, her husband and her twins reside in Atlanta and New York City.