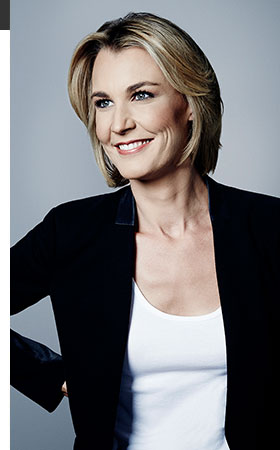 Robyn Curnow
Robyn Curnow is an anchor and correspondent for CNN, based at the network¹s bureau in Johannesburg, South Africa.
Curnow led CNN's coverage of Nelson Mandela's death. Her reporting included exclusive interviews with Mandela's family on his last moments as well as previously unseen footage of the garden where he was to be buried. Curnow was the only journalist to report live from inside Mandela's funeral, giving CNN's audiences unparalleled access and insight into his final journey. In the months leading up to Mandela's death, Curnow she broke the news that Mandela was on life-support and dialysis.
Curnow had a long association with Mandela, interviewing him a number of times since his Presidency. Her conversation with him on his 90th birthday was the last official interview he gave.
In 2013, Curnow travelled to Zambia for an exclusive interview with former US President George W Bush for Erin Burnett Upfront and CNN International. Her series of engaging reports featured Pres Bush defending PRISM and other intelligence gathering programmes put in place after 9/11. In the last year, she also interviewed President Bill Clinton.
Curnow has extensively covered the career of Oscar Pistorius, often giving audiences rare access to the Olympian athlete and his family. She led CNN¹s coverage of Pistorius shooting of his girlfriend and continues to report on the events surrounding the Valentines Day¹s tragedy. Her documentary, commissioned by Anderson Cooper 360, featured exclusive interviews with Pistorius' uncle, coach and agent, new footage of Reeva and an off-camera meeting with Pistorius.
Recently, Curnow interviewed US First Lady Michelle Obama when she travelled to Botswana as well as US talk show host Oprah Winfrey at her girl's school in South Africa.
Curnow and her crew joined Archbishop Desmond Tutu for exclusive access to his 80th birthday, as part of a documentary broadcast on CNN Internatuonal, which also featured Curnow's interview with U2's Bono. Archbishop Tutu gave Curnow a wide-ranging interview in which he chastised South Africa's ruling ANC party for barring the Dalai Lama from attending the birthday celebrations.
Curnow recently covered Prince Harry¹s trip to Southern Africa, where she reported live from Lesotho.
She is host of CNN Marketplace Africa, a flagship CNN International programme that offers a weekly insight into African business. She also regularly contributes to African Voices and Inside Africa.
Her weekly 'facetime' interview on Marketplace Africa has included Anglo American CEO Mark Cutifani, the senior Chinese diplomat to Africa Zhong Jianhua, IMF head Christine Lagarde and former IMF head Dominique Strauss Kahn as well as UN Secretary General's Ban Ki Moon and Kofi Annan.
She has also SA President Jacob Zuma, Rwandan President Paul Kagame, Zimbabwean PM Morgan Tsvangarai, Nigerian Finance Minister Ngozi Okonjo-Iweala, First National Bank CEO Michael Jordaan, Prudential CEO Tidjane Thiam, Econet CEO Strive Masiywa, MTN CEO Sifiso Dabengwa and other business leaders from across the continent.
For Marketplace Africa, Curnow reported exclusively from inside the controversial diamond mines of Marange, in Zimbabwe. On another trip, while reporting from the streets of Harare on media freedom, she and her crew were briefly detained by Zimbabwean police. She has reported from Maputo on the return of Portuguese to Mozambique after the financial crisis and on the deadly rhino horn trade from the Kruger Park while on patrol with anti-poaching police.
Curnow has won international awards for her coverage of the HIV/Aids epidemic in South Africa and for her hour-long documentary on Mandela. Oprah magazine listed Curnow in their 2013 Power List.
Previously, Curnow worked as correspondent and anchor at CNN¹s London bureau, reporting on the death of Pope John Paul II from the Vatican, the 2005 London bombings and the South Asian tsunami, for which the CNN team won a DuPont-Columbia Award.
Early on in her journalism career, Robyn was a correspondent and anchor for the South African Broadcasting Corporation. She has also worked as a reporter for the BBC while studying in United Kingdom.
Curnow has a Master of Philosophy degree in International Relations from Cambridge University.
Curnow was born in Australia but raised in South Africa.
Follow Robyn on Twitter