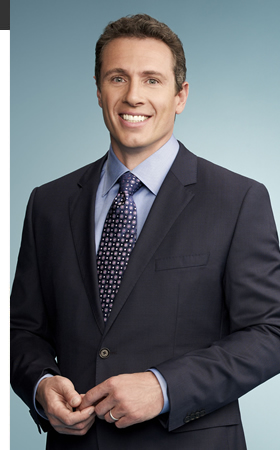 Chris Cuomo
Chris Cuomo is a CNN anchor and reports on major events and breaking news across the network. Cuomo is the host of CNN's morning show "New Day" with Host Kate Bolduan and News Anchor Michaela Pereira. Joining the network in February 2013, he has already covered the Boston Marathon attacks, 2013 State of the Union, papal resignation and conclave and Christopher Dorner manhunt.
Previously, Cuomo was the co-anchor of "20/20," the Emmy Award-winning ABC Newsmagazine, and Chief Law and Justice Correspondent for ABC News, where he covered Hurricane Sandy, the aftermath of the Newtown, CT school shooting, the Aurora, CO movie theater shooting, and the 10th anniversary of 9/11, all live on location. Cuomo broke the Anthony Weiner story, investigated the mishandling of the Jaycee Dugard case, interviewed Stephanie Madoff Mack, landed the exclusive interview with Dharun Ravi, the defendant in the Tyler Clementi bullying trial, and got the only interview with Aaron Fisher, the first victim of disgraced Penn State football coach Jerry Sandusky.
Cuomo's investigative efforts have been a corner stone of ABC News' "Gets Answers" series, tackling dozens of cases against large companies for families whose situations exemplify larger industry issues. These stories have resulted in real change: American Express changed policy because of card member exploitation; BMW recalled over 150,000 affected models over engine shut-down; the FDA intervened when the effect of zinc in denture cream revealed an alleged cover-up of neurological problems; a hidden camera exposé on for-profit school recruiters led to new standards of disclosure to potential students; and dozens of families received medical treatment and coverage after confronting insurance companies about denials and methods of coverage.
From September 2006 - December 2009, Cuomo was the news anchor for "Good Morning America," serving as the primary reporter on all breaking news stories, both at home and around the world. He covered the war on terrorism, embedded in Pakistan, Afghanistan and Iraq on multiple occasions. At home, he covered all stories, including tragic crimes, such as the shootings at Virginia Tech, Ft. Hood, and the Pennsylvania Amish school shootings; hurricanes Katrina and Rita; as well as the Sago Mine collapse and the Minneapolis bridge collapse in August 2007.
A champion of purposeful long-form journalism, Cuomo's documentaries have included exposing the growing number of homeless teens in America and examining the new face of heroin in suburbia. Also, he spearheaded weekly digital programs, "The Real Deal" and "Focus on Faith" with Father Edward Beck on ABC News Now, the network's 24-hour digital outlet.
Cuomo's reporting and investigations have been recognized with dozens of journalism awards, including multiple Emmy nominations and awards for his investigative reporting and news coverage. Notably, Cuomo's "Good Morning America" profile of inspiring 12-year-old poet, Mattie Stepanek, was recognized with a News Emmy making Cuomo one of the youngest correspondents to receive this award in network news history. Additionally, Cuomo received Polk and Peabody awards for team coverage, the Edward R. Murrow award for breaking news coverage, a Loeb Award for business reporting and the American Bar Association Silver Gavel Award for investigating juvenile justice.
Before joining ABC News, Cuomo was a correspondent for the Fox News Channel and Fox Broadcast Network's "Fox Files," where he covered a wide range of stories focusing on controversial social issues. He also served as a political policy analyst for Fox News Channel. Prior to Fox News, Cuomo practiced law and worked in structured finance.
A licensed attorney, Cuomo received his law degree from the Fordham University School of Law in New York City and his undergraduate degree from Yale University. He lives in New York City with his wife, Cristina, and their three jewels.
Follow Chris on Twitter: @ChrisCuomo


More: