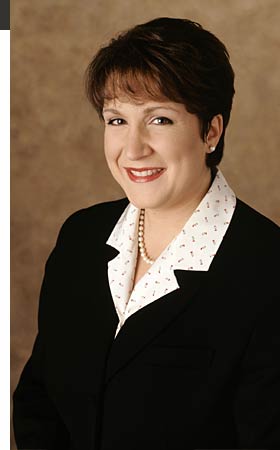 Susan Bunda
Susan M. Bunda, executive vice president of content development and strategy for CNN Worldwide, oversees program creation and development and provides leadership and guidance in the network's continuing integration of television and the Web. Bunda reports to Jim Walton, president of CNN Worldwide, and is based at CNN world headquarters in Atlanta.
Previously, Bunda served as senior vice president of news for CNN/U.S, a role in which she supervised Atlanta-based programming and all editorial content for CNN's domestic bureaus, in addition to the medical, science & technology unit and guest bookings units. In this capacity, she was instrumental in the network's coverage of major news events, including Hurricane Katrina and its aftermath and the South Asian tsunami. She was part of the CNN team honored with prestigious awards such as the Peabody Award for the network's Katrina coverage and the duPont Award for its tsunami coverage. In addition, Bunda helped oversee CNN's coverage of the death and funeral of Pope John Paul II, the 2004 U.S. presidential campaign and election, the continuing war in Iraq, the 2001 terrorist attacks on the World Trade Center and the Pentagon and CNN's Millennium 2000, the networks' most extraordinary programming initiative, which included 100 hours of comprehensive, global news coverage of millennium-related events and turn-of-the-century issues.
During Bunda's CNN career, she also served as senior vice president for talk shows/guest bookings. Additionally, she was an executive producer with the CNN Special Events Unit where she was responsible for producing CNN Special Reports, the network's ongoing series of prime-time specials that aired on the day of breaking news. She also assisted with background for scheduled news events and in-depth reporting, analysis and continuing coverage of ongoing stories. While in Special Events, the unit produced the network's extensive coverage of such significant world events such as Great Britain's handover of Hong Kong to China, Princess Diana's funeral, President Bill Clinton's visit to Africa and Pope John Paul II's visit to Cuba.
In her early years at CNN, Bunda was executive producer of CNN's legal analysis show, Burden of Proof and CNN & Company, a news talk show featuring a panel of female experts debating the top stories of the day. Bunda began her career at CNN in 1987 as a producer and writer.
Before joining CNN, Bunda served as a producer at WWMT, a CBS affiliate in Kalamazoo, Mich., from 1985-1987. While there, she produced the 11 p.m. newscast. She also worked as a videotape editor at WMAQ in Chicago from 1983-1985.
Bunda graduated from Western Michigan University with her degree in communications and journalism.


More: