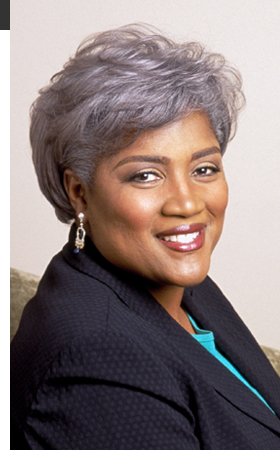 Donna Brazile
Donna Brazile serves as a CNN political contributor and Democratic strategist, regularly appearing on daily and special programming across the network's platforms.
In addition to her work at CNN, Brazile has decades of experience as a political strategist. She first entered the world of politics as a nine-year-old in her native New Orleans, when she successfully went door-to-door on behalf of a City Council candidate who pledged to build a playground. She since has played a role in every presidential campaign from 1976 to 2000. She managed former Vice President Al Gore's presidential campaign, becoming the first African-American woman in history to lead a bid for the White House.
In addition to being the founder and managing director of Brazile & Associates, Brazile currently serves as Vice Chair of Voter Registration and Participation at the Democratic National Committee and is the former chair of the DNC's Voting Rights Institute.
Brazile also is an adjunct professor at Georgetown University and the author of a memoir, Cooking with Grease: Stirring the Pots In American Politics, as well as regular columns for United Media and Ms. Magazine. She has received numerous awards and accolades, including the Congressional Black Caucus Foundation's highest award for political achievement and spots on The Oprah Magazine's first "O Power List," Washingtonian magazine's "100 Most Powerful Women" and Essence magazine's "Top 50 Women in America." Brazile holds honorary doctorate degrees from Louisiana State University and Xavier University of Louisiana.