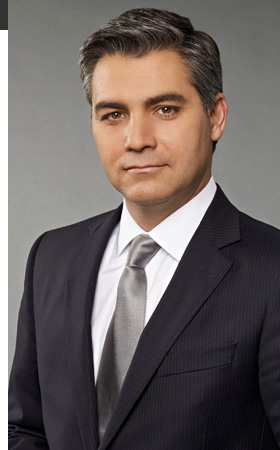 Jim Acosta
Jim Acosta is CNN senior White House correspondent, covering the Obama administration from the White House and around the world. He is based in the network's Washington, D.C., bureau and will continue to serve as a substitute anchor for the network.
Previously, Acosta was national political correspondent throughout CNN's America's Choice 2012 coverage, embedded with the Romney presidential campaign as the lead correspondent. He traveled with the GOP presidential candidate to key battleground states and to the U.K., Israel and Poland, covering the latest campaign developments. Acosta sat down with Mitt Romney for two one-on-one interviews, breaking several political stories and presidential debate coverage. In addition, he covered both of President Barack Obama's inaugurations and contributed to the network's mid-term election coverage.
In 2009, when the Obama administration lifted some restrictions on American travel to Cuba, Acosta reported from Havana, Cuba, on the effects of the policy change and on the post- Cold War relationship of the United States and Cuba. During the 2008 presidential election, Acosta covered the campaigns of then-Sen. Hillary Clinton, Sen. John McCain and then-Sen. Barack Obama, frequently contributing as co-anchor on CNN's weekend political program, Ballot Bowl. During his time with CNN, Acosta has covered several breaking news stories, including the tragedy at Virginia Tech and the Gulf Coast during the oil spill crisis.
Before joining CNN in March 2007, Acosta was a CBS News correspondent since February 2003. Originally based in New York, he later relocated to the CBS bureau in Atlanta. He contributed primarily to the CBS Evening News and has covered stories including the Iraq war from Baghdad, the 2004 presidential campaign of then-Sen. John Kerry, Hurricane Katrina and the blackout of 2003.
Previously, he was a correspondent for CBS Newspath, the network's 24-hour news service, from 2001-2003 and was based in Dallas and Chicago during that time. Acosta covered the Pennsylvania miner rescue, the Washington, D.C.-area sniper story and the Sept. 11 terrorist attacks, among other stories.
Prior to CBS Newspath, he was a reporter and substitute anchor for WBBM-TV, the CBS-owned station in Chicago from 2000 to 2001; a reporter for KTVT-TV, the CBS-owned station in Dallas, from 1998 to 2000 and a reporter and substitute anchor for WBIR-TV in Knoxville, Tenn., from 1995 to 1998. He began his journalism career with WMAL-AM radio in Washington, before making the transition to television.
Acosta graduated cum laude from James Madison University with a bachelor's degree in mass communications and a minor in political science.
Follow Jim on Twitter @jimacostacnn.