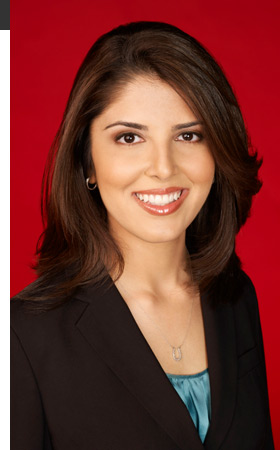 Atia Abawi
Atia Abawi is an international correspondent for CNN, based at the network's operation in Kabul, Afghanistan. Appointed to this position in October 2008, Abawi has been with CNN since 2004.
Abawi began her career at CNN in the Media Operations department, but she quickly moved over to the International Desk, where she served in various capacities including Researcher, Assignment Editor and Producer for the Atlanta, Baghdad, Amman, Los Angeles and Islamabad bureaus.
Abawi also reported on air for CNN Newsource in Washington D.C., providing breaking news coverage and reports from the nation's capital for approximately 800 CNN Newsource partner stations.
In late 2007, Abawi was part of the first CNN teams in Pakistan after the assassination of former Prime Minister Benazir Bhutto. Earlier that year she was extensively involved in the Afghanistan-Korean hostage situation, gathering news from both the Taliban and Afghan governments.
Abawi was one of the lead producers of 'Impact Your World: Rescuing Youssif', the story of a young Iraqi boy burned by insurgents in Iraq. The documentary followed him on his journey from Baghdad to Los Angeles for treatment.
In 2006, Abawi covered the war between Israel and Lebanon, working closely with various teams in Israel, Lebanon, Syria, Iran and Cyprus. She also spent five weeks in Afghanistan producing and filming an independent documentary, spending time in a remote village in Central Afghanistan under a strong Taliban control.
Prior to joining CNN, Abawi worked as a news reporter for CTV News in Largo, Maryland. She also was the creator, producer and host for the Up2Date Show.
Abawi was born in Germany and raised in the United States. She has a BA in Communication Studies and minor in International Studies from Virginia Tech and is fluent in English, Dari and Farsi.