Wednesday, November 08, 2006
Thank you, Tryst!
2 am ET and we're calling it a night. To the
Tryst
staff, thank you so much for making this night an unbelievable success!
1:30 am ET
"The brakes are on everywhere..."
Some late-night observations from the right:
"It is a good, good night for Democrats, a bad bad night for Republicans, and a brutal night for my predictions. It is a tushie-kicking from coast to coast," writes Jim Geraghty at
National Review Online
.
Ann
Althouse
: "I'll have to rethink this tomorrow, but it seems to me that not much can happen in the next two years. The brakes are on everywhere. The watchword is 'humility'... isn't it?"
"Silver linings are few and far between tonight," writes
Power Line's
Scott Johnson, but he finds one in the
MN GOV race
.
All eyes on VA
Paul from
Power Line
headlines a post, "Bye-bye Senate?" "Webb is now leading Allen by more than 2,000 votes with 99 percent of the vote in."
"Webb has taken the lead. He is going to win this, but get ready for a vicious fight," blogs Chris at
MyDD
.
Atrios
: "Webb Pulling Ahead. Oh my..."
Tuesday, November 07, 2006
Dems take House
"Since 1994, we have had a Contract on America. No more. Goodbye, Republicans", exclaims
Talk Left
's Jeralyn Meritt.
"There are a lot of House races yet to be called, but I think this WILL turn out to be the GOP bloodbath I predicted earlier," blogs Robert Bluey at
Human Events
. "Despite their strong showing in the House, our friends on the left aren't as giddy as I expected. They may be holding back their enthusiasm until all the Senate races are called."
Marc Lamont Hill
comments that, "while this is far from a major surprise, it's still a relief to see that no last minute shenanigans came to pass. Of course, I'm not terribly excited or optimistic about a Democratic House, I'm happy to see some semblance of democracy (i.e. checks and balances) restored to the American political system."
More photos from blogger party
Check out these blogs for more excellent photos from tonight's event at
Tryst
:
Althouse
,
AMERICAblog
,
FishBowlDC
, and
Wonkette
.
Predictions
Jacki interviews Wonkette's Alex Pareene for
Pipeline
.
"Consensus in CNN blogger land"?
"The polls are closing, the initial results are in. The only question is, how big a loss for Republicans? I'm thinking more than 20 seats. That seems to be the consensus here in cnn blogger land -- particularly among the liberal bloggers," writes
TalkLeft
's Jeralyn Merritt.
"There seems to be a general consensus in the room among the bloggers (both liberal and conservative) that Democrats will take control of the House and fall short of taking control of the Senate," writes
Wizbang
's Kevin Aylward.
Kevin spent an hour circulating through the party and compiled an exhaustive list of every blogger's predictions.
Check it out here.
CNN calls it for Casey

Rick Santorum, the Senate's third-ranking Republican, is set to fall to the Democrats.
On the right, James Joyner from Outside the Beltway calls it "
no big shocker
." Dean Barnett of Town Hall
writes
, "Santorum going down is a body blow" and hopes that he "stays active in politics."
On the left, John from Crooks and Liars calls it a "
blow out
." Steve Clemons from The Washington Note
congratulates
"all the folks who were key parts of the Casey campaign."
Reaction from the room...
RI SEN:
"Another pick-up for the Democrats. Whitehouse defeats Chafee....another race the GOP said was closing so quickly that they'd win. Wrong again," says John at
AMERICAblog
.
MD SEN:
"This one is my heartbreak of the night." - Lorie at
Wizbang
.
CT SEN:
"The good news is that Connecticut has re-elected Joe Lieberman. The bad news is that sweetest Senate result to date involves a Democrat winning," says Scott at
Power Line
.
"Joe Lieberman was just projected the winner and surprisingly there were no hisses to be heard from the liberal bloggers in the room," says Lorie at
Wizbang
. "I think this one has been a done deal for so long that the level of emotion is somewhat played out."
On Ted Strickland's projected OH GOV win...


Rep. Ted Strickland has beaten J. Kenneth Blackwell in the Ohio governor's race.
CNN
projects
that Democratic Rep. Ted Strickland will win the Ohio governor's race over Republican Ken Blackwell, the Ohio secretary of state.
Strickland would replace outgoing Ohio Republican Gov. Bob Taft. This is a Democratic pickup.
The left is rejoicing ...
"The evil Ken Blackwell has been defeated," says
John at AMERICAblog
.
"Say good-bye to the man who handed Bush the win in 2004," says
Jamie at Crooks and Liars
.
While the right is lamenting ...
"It just wasn't the year for Blackwell (R)," says
Adam at RedState
.
The Cafferty File: Democrats' priorities?
We asked viewers the following question and here are some of our favorite responses that we didn't get to read on air:
If the Democrats get control of Congress, what should their priorities be?

The only hope this nation has of regaining its moral standing in the world lies in investigating the incompetence and irregularities so common in the current administration. We must prove to the world that the last six years were an aberration.
Steve, Washington
So many issues, so little time. But one does top my list: Create a culture of dignity and acceptance for all OF us, whoever we are, wherever we are on life's journey. Congress can take the lead to inspire people to lose the anger and hatred, and come together to fight our common battles.
Nancy, Cleveland, Ohio
It would be a huge mistake for Democrats or anybody else to seek retribution for the excesses of the last six years. Americans are sick of partisan bickering. It's long past time for Congress to be tending to the actual public interest—global security, an economy healthy across all income strata, public health. Let's surprise ourselves and get 'er done, for a change.
John, Nuevo, California
Should the Democrats win, they should: 1) Let the administration know there is a new sheriff in town. 2). If the administration becomes reasonable, the new sheriff will not start a lot of investigations.
B., Portland, Oregon
As a recovering Republican, I think the first responsibility the Democrats have should be finding someone to utter once again those immortal words of 32 years ago..."My fellow Americans, our long national nightmare is over!" No kidding Jack. I just returned from the polls where I voted for more Democrats today than I have in the past 28 years combined! It's time we threw all of the bums out and started over. Viva la revolution!
Bill, Eaton Rapids, Michigan

On the same-sex marriage amendments...
"I guess we can rule out the whole Ted-Haggard-scandal-will-keep-conservative-Christians-home-on-election-day mantra, eh?" says Patrick at
Ankle Biting Pundits
.
Marc Lamont Hill
blogs, "As you know, bans on gay marriage are on the ballot Tuesday in Arizona, Colorado, Idaho, South Carolina, South Dakota, Tennessee, Virginia and Wisconsin. With the exception of Colorado, it looks like the bans could win out across the board."
"Here's hoping that amendment has the same effect for Allen in Virginia that it did for Bush in Ohio in 2004," says Chris at
Human Events
.
"A roomful of bloggers..."
"The great thing about being in a roomful of bloggers is that you get to hear the rumours before they get blogged." - Jerome at
MyDD
"I figured that we would have a quiet atmosphere, sort of lounge-like, and that we would be mostly focused on our computers. Instead, this is a madhouse, but a fun one" - Capt. Ed at
Captain's Quarters
"They don't even have us segregated into separate corners, so we all have to be civil. I guess that is good for comity. It's a lot harder to flame people's opinions in person." - Betsy at
Betsy's Page
"It's a little weird - the wingnuts have staked out their little enclaves, and are scowling a lot. The progressive bloggers look a bit more relaxed and cheery - with a few exceptions on both sides." - Christy at
Firedoglake
"CNN has brought in an incredible crew of conservative bloggers... I appreciate their company tonight. We ain't gonna give the lefties any Schadenfreude on our account." - Scott at
Power Line
"Everyone thus far seems civil. Some of us have been wondering if folks have grouped themselves along party lines. Guess we'll find out once the returns start coming in. I myself have chosen to wear a purple tie to show my solidarity with America's moderate voters." - Stephen at
Lost Remote
"At least it's an open bar. Back to you, Wolf!" - Alex at
Wonkette
Exit polls on the issues
Some quick reaction to CNN's reporting of the issues most important to voters, according to exit polls of voters across the country.
Asked which issues were extremely important to their vote, 42 percent said corruption and ethics; 40 percent, terrorism; 39 percent, the economy; 37 percent, Iraq; 36 percent, values; and 29 percent, illegal immigration.
"The surprise is 'terrorism,'" says
Wonkette
, "because that's been showing up as a top priority for only 12% of voters. The other three priorities are all poison for the Republicans."
"Just saw them saying on CNN that 'Corruption' was the number one issue mentioned by voters in exit polls. If -- and it's a big "if" -- this is an accurate reflection I think the GOP will wish it had passed all those promised ethics reforms that it didn't deliver," says Glenn Reynolds at
Instapundit
.
Reynolds, by the way, is participating via webcam at the party:
The Cafferty File: Taking the initiative
On "The Situation Room" today, we asked viewers the following questions, and here are some of our favorite responses that we didn't get to read on air:
What initiative would you put on your state's ballot?

I'd like to see real, actual campaign finance reform, even if only at the state level. Cap spending on campaigns at a certain level for all candidates so we have less fund raising, less soft money, and more work.
Rich, Jacksonville, Florida
Jack, How about a ballot initiative for California to secede from the U.S.?
Henry, Los Angeles, California
An initiative that states elected officials shall only be paid the median income of the area they represent.
Alex
Here in North Carolina, I would like to see a ballot initiative to ban smoking in all restaurants.
Tim, Greensboro, North Carolina
Any soldier that carries a weapon in a war theater should have a substantial increase in their pay. The risk of combat should be rewarded with an income at least as much as some congressman.
W., New Mexico

How much damage has the Bush administration's agenda done to the Republican Party?
My mother, who first voted for president in 1960, has always voted Republican. She has said it will be a long time before she votes Republican again.
Eddie, Star City, Arkansas

Dear Jack, Abraham Lincoln is turning over in his grave. The party founded 150 years ago amidst a crusade against slavery has become a conglomeration of greed and intolerance. The Bush years have discredited the GOP label for a generation.
Hans, Washington, D.C.
The Bush agenda has done huge damage to the Republican Party, which is not going to be able to be repaired in the near term and which will hurt Republican candidates in the 2008 election. The GOP has traditionally stood for limited government to protect equal rights. So much of what the Bush agenda has been about is contrary to these principles.
Rex, Sheridan, Wyoming
"BlogStock"
CNN satellite truck parked outside Tryst on 18th Street in Adams Morgan.
Steve from
The Washington Note
has dubbed this
"BlogStock."
Participating Bloggers:

Ann Althouse

John Aravosis

Patrick Hynes

Betsy Newmark

Ed Morrissey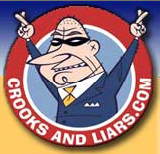 John Amato

Duncan Black

Christy Hardin Smith

Patrick Gavin

Robert Bluey

Bob Cesca

Glenn Reynolds

La Shawn Barber

Stephen Warley

Marc Lamont Hill

Jerome Armstrong
Andrew Noyes

Jim Geraghty

James Joyner

Pam Spaulding

Scott Johnson

Nick Gillespie

Mike Krempasky
Jeralyn Merritt

Judd Legum

Mary Katherine Ham

Steve Clemons

Lorie Byrd

Alex Pareene