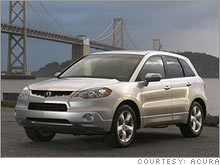 The Acura RDX has been rated one of the safest vehicles of 2007, according to the Insurance Institute for Highway Safety.
Safest vehicles of 2007
Is your car one of the
safest vehicles
on the road? According to the Insurance Institute for Highway Safety, there are 13
"Top Safety Pick"
winners for 2007, seven of which are SUVs. The Institute's
annual report (PDF)
is based on front, side, and rear collision tests, and this year's winners were also required to feature electronic stability control. Here is the
list of winners
.
Mattel toy recall
With holiday shopping season just around the corner, some popular toys may be hazardous to your child's health. Toymaker Mattel
is recalling
about 4.4 million
Polly Pocket
dolls and accessories containing small magnets because,
if swallowed
, the magnets can cause severe intestinal damage. At the same time, a new report from the U.S. Public Interest Group called
"Trouble in Toyland"
warns of toys that pose safety hazards to children, including choking and strangulation as well as toys that may contain toxic chemicals.
Watch "The Situation Room" at 4:00 PM, 5:00 PM, and 7:00 PM ET for these stories and more from our Internet reporters.