Friday, October 27, 2006
The Cafferty File: A no-brainer?
On "The Situation Room" today, we asked viewers the following questions, and here are some of our favorite responses that we didn't get to read on air:
What does it mean when Vice President Cheney says dunking terror suspects in water is a "no-brainer"?
This is consistent with the administration's stance that torture is not only acceptable, but now thanks to our legislators who are afraid of being labeled soft, legal. Cheney's slip only confirms the ascent of this philosophy into the mainstream.
Larry, Lindenhurst, Illinois
Any interrogation techniques that work against terrorists are a "no-brainer." We are not at war against the government of another country. I don't think the Geneva Conventions should apply when dealing with terrorists. Do the terrorists apply the Geneva Conventions when they behead the infidels?
Gene, Sedona, Arizona
When Vice President Cheney says dunking terror suspects in water is a "no-brainer," it means that as a nation under the Bush-Cheney administration, we have degenerated into a people who both approve of and engage in the barbaric and immoral act of torturing others.
Jeanne, Mt. Laurel, New Jersey
Jack, How about dunking presidents and vice presidents in truth serum?
Pete, Pennsylvania

Mexican leaders say the border fence is an "embarrassment" and "deplorable." How much do their opinions matter?
If we can fence our yards for security and privacy, we surely should be able to fence our country for the same reasons. After all, this is OUR country. What Mexico says is irrelevant.
Kathie, Missouri
No, Jack it doesn't matter what the Mexican politicians say about our building a fence on our borders. I just wish Pres. Bush would stop playing politics (fat chance) with it and fund a reasonably robust, high-tech border barrier. So far, the fence looks like something my Doberman pinscher can climb!
Roger, Virginia
Mexican leaders deplore the building of a wall because it will cut off their safety valve. They have been able to exploit and ignore their own people in order to enrich themselves because the exploited could always go to the U.S. Closed borders will probably lead to a revolution in Mexico. They need one.
Miles, Allentown, Pennsylvania

Mexican leaders' opinions about anything related to my country remind me of how urgent it is to insist our Congress fund our fence project and get it built as soon as possible.
Lavon, Bedford, Texas

When it comes to the upcoming midterm elections, where would you put your money?
I would put my money on most incumbents losing, whichever party they belong to. The do-nothing Congress should all be removed, just to show our dissatisfaction.
Richard, Huntley, Ill.
Under my mattress. With our choices in either party, it is the only safe bet.
J.R., New York
Sorry, Jack. I do not have any money left to put on anything. I am what used to be called American middle class.
Paul, Park City, Utah
Sorry Jack, they already got my money, but I'm voting to throw the rats out no matter what party they are hiding behind.
Roger, Dallas, Texas
Jack, you can't argue with success. I'm putting my money on Diebold.
Mary, Susquehanna, Pennsylvania
Jack, Few baseball fans would have bet on the slumping Cardinals in post-season play. Now they are about to win the World Series. Does anyone really think the GOP is going to lose power in both houses? I wouldn't bet on it.
Ralph, Leeds, Utah
Thursday, October 26, 2006
The Cafferty File: Democrats in control?
On "The Situation Room" today, we asked viewers the following questions, and here are some of our favorite responses that we didn't get to read on air:
If Democrats take control of Congress, what do you think their priorities will be?
I think whatever the Democrats do, it will be something to benefit those who are not wealthy. What a change that will be.
Wally, Louisville, Washington
If the Democrats take back Congress, their priority will be to remain in power, re-election. Most have sacrificed leadership and principles for this goal. Their mantra is "the end justifies the means." Tragic for the electorate.
Missy Beattie, New York City

I hope impeachment of the Bush/Cheney dynasty.
Harold, Anchorage, Alaska
They will do exactly what the Republicans would do: tell the majority of the voters what they want to hear so they (the politicians) can continue their "War on the Middle Class."
Warren, Marshall, Minnesota

When it comes to Iraq, who do you believe: the Bush administration or Iraq's prime minister?
The Bush administration hasn't been correct nor told us the truth yet, so why believe them now? The Iraqi prime minister is a puppet of the Shiite militias and religious leaders so he will say what they want him to say. Bottom line, don't trust any of them.
Tom, North Las Vegas, Nevada
Neither. It's the blind leading the blind... and our brave soldiers are paying the price for this fiasco.
Bruno, Dallas, Texas
The Iraqi prime minister seems far more credible than the Bush administration to say what his own government will or will not accept. I found the statement of the prime minister of Iraq to be absolutely clear and to the point. I doubt if it needs any translation from Tony Snow or any other Bush official.
Vern, Portage, Indiana
This is a trick question right? Can I have a third choice?
Samuel, San Antonio, Texas

Would you want your child to grow up to be a member of Congress?
Would I like to see my children in Congress? No. I would prefer that they continue to be the good, honest people that they are.
Bob, St. Clair Shores, Michigan

Absolutely yes. Where else can my child receive the income, retirement, perks, paid for foreign and domestic trips and beneficial meetings with various lobbyists? I also forgot, low hours to boot. Please vote for me, the heck with my children.
Nelson, Truckee, California
There is no way my son could ever become a member of Congress. I taught him to value honesty and integrity. That automatically disqualifies him to be a politician.
Vicky, Idaho Falls, Idaho
Monday, October 23, 2006
The Situation Online: Fantasy Congress & Google-bombing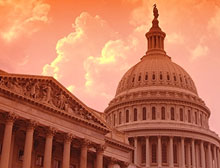 Google-Bombing the GOP?
Sixty-three million people
went online
for political news in 2004, and this season that number is expected to be even higher. This election season, one liberal blogger is
rallying democrats
to use the Web to their advantage by
manipulating
the popular search engine
Google
, and the controversial plan may have impact what voters can read about Republican candidates before November 7th.
Fantasy Congress
Fantasy Football doesn't get you going? More interested in committee mark-ups than rushing yards?
Fantasycongress.us
, the brainchild of four California college students, is a new online game tracking Congressmen and their moves on Capitol Hill. With league names like "Barack and Roll," "Political Party Foul," and "Nerd Alert," this isn't your typical online fantasy league.
Watch "The Situation Room" at 4:00 PM, 5:00 PM, and 7:00 PM ET for these stories and more from our Internet reporters.