Wednesday, August 15, 2007
The Situation Online: Wikipedia sleuthing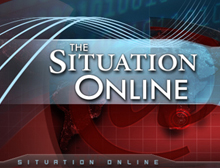 Wikipedia sleuthing
Wikipedia
has made its name as the online encyclopedia that anyone can edit. But who exactly has been adding or deleting information? A new Web site from CalTech graduate student
Virgil Griffith
says the edits on Wikipedia are coming from computers associated with 2.6 Million organizations, ranging from the CIA to the Vatican. Griffith has compiled all that data into one searchable site that's keeping track of who has been writing what about what.
Click here
to do your own Wikipedia sleuthing.
Watch "The Situation Room" at 4 PM, 5 PM, and 7 PM ET for this story and more from Internet reporter Abbi Tatton.